Honoring the Life of a Synchronized Swimming Legend ~ Sue Ahlf ~ 2003 ISHOF Paragon Winner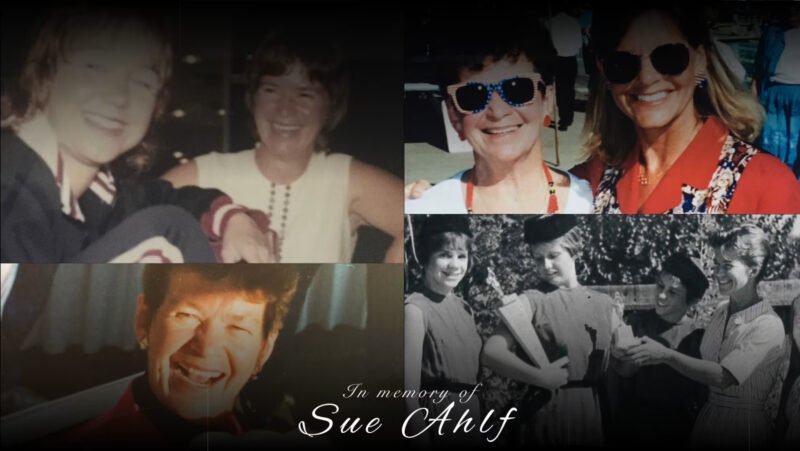 ---
BY USA ARTISTIC SWIMMING
Sue Ahlf's interest with synchronized swimming began in 1946 at the Athens Club in Oakland, California when Betty Brandlein and Hall of Famer Dawn Bean sparked her excitement. She became a volunteer with the U.S. Synchronized Swimming Pacific Association. In 1955, Sue founded the Soltau Swim Club in Danville, California and became an official synchronized swimming judge. After several successful years, the club dissolved and she worked with the Howell Swim Team.
But in 1968, she founded the Walnut Creek (CA) Aquanuts. She coached the club until 1980 when she moved to Hawaii. To date, Walnut Creek has won 30 U.S. National Championships and is coached by her Hall of Fame daughter, Gail Emery. While in Hawaii, Sue introduced synchronized swimming to the islands and hosted two each Pan-Pacific Games, Far Western Meets and U.S. National Championships.
Sue is an internationally ranked judge, synchro clinician and manager for two U.S. junior national teams. She is now involved in Sacramento's (CA) recreation league teaching the basics of synchronized swimming to more than 600 athletes each year. She holds a B.S. in Recreation Management from Cal State Hayward. Sue is a 1983 U.S.S.S. Hall of Fame inductee and a current member of the U.S.S.S. Board of Governors. She is a tireless volunteer who has devoted her life to the advancement of synchronized swimming.