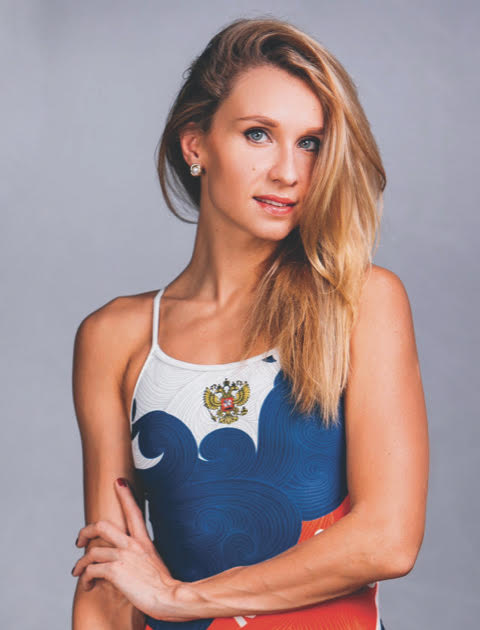 Natalia Ischenko  (RUS)
Honor Synchronized / Artistic Swimmer (2023)
The information on this page was written the year of their induction.
FOR THE RECORD: 2016 OLYMPIC GAMES: gold (duet, team); 2012 OLYMPIC GAMES: gold (duet, team); 2008 OLYMPIC GAMES: gold (team); 2015 FINA WORLD CHAMPIONSHIPS: gold (solo free, duet tech, duet free); 2011 FINA WORLD CHAMPIONSHIPS: gold (solo tech, solo free, duet tech duet free, team, combo); 2009 FINA WORLD CHAMPIONSHIPS: gold (solo tech, solo free, team free, duet free); 2007 FINA WORLD CHAMPIONSHIPS: gold (solo tech, combo, team tech, team free), silver (solo free); 2005 FINA WORLD CHAMPIONSHIPS: gold (team, combo), silver (solo). 
Natalia Ishchenko is considered one of the greatest artistic swimmers of all-time. The Russian swimmer is a three-time Olympian, with five gold medals. She is a 19-time world champion ranging over a 10-year period, beginning in Montreal 2005 through Kazan 2015.
Born in Smolensk, Russia on April 8, 1986, shortly after, her family moved to Kaliningrad. At the age of five, she got involved in two different sports, rhythmic gymnastics, and synchronized swimming. It soon became apparent that she had to choose between the two sports and synchronized swimming won.
For almost 10 years, Natalia worked under the guidance of Svetlana Ustyugova, Lada Stepanovich and Lyudmila Mizina, who were known in Kaliningrad as specialists in the sport of synchronized swimming. They gave her the base she needed at the beginning of her career.
Initially, it was not certain that Natalia was a natural at synchronized swimming. She did, however, pass the selection process and began to train with Stepanovich. Despite Natalya's early growing pains, it was Stepanovich who believed in her and thought she should be given a chance.
At the age of 14, Ishchenko moved to Moscow to train at the Olympic Water Sports Center where she began to train with Olympic athlete and coach, Tatyana Danchenko.
At the 2006 European Championships in Budapest, Ishchenko took part in three out of four events and became a three-time European Champion within 24 hours.
Next, she and the Russian team traveled to Melbourne, Australia to attend the 2007 FINA World Championships where she impressively walked away with five medals: four gold and silver.
Her first Olympic gold came in Beijing, China in 2008, earned as part of the team event. She followed up at the 2009 Worlds in Rome with three gold medals, one each in solo, duet and team.
At the following World Championships in Shanghai in 2011, Natalia bettered her previous record of five medals in 2009 by taking gold in six of the seven events in synchronized swimming. It was an amazing display of talent.
At the 2012 London Olympics, she was crowned champion along with partner, Svetlana Romashina, in the duet competition. She won her second gold in London in the team event, making her a three-time Olympic champion.
After her Olympic success in 2012, Natalia took a break to give birth to a son, which led to her missing the 2013 World Championships. She returned in top form to compete in the 2015 World Championships held in her own backyard. She was golden in Kazan, claiming titles in the solo, duet free and duet technical. Qualifying for her third Olympic team, she headed to Rio, this time as a mother. Natalya added two more gold medals to her collection, in the duet, again with partner, Svetlana Romashina, and in the team event.
In addition to her Olympic hardware, she has led the artistic world with 19 World Championship titles.
Ischencko graduated from the Immanuel Kant Baltic Federal University and the Russian International Olympic University. She is married to diver, Sergei Anikin, a European Championships silver medalist, and they now have two sons, Semyon and Fedor.