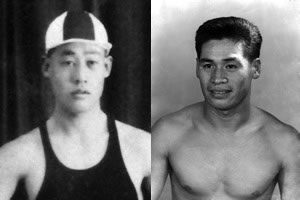 Mu Chengkuan & Mu Xiangxiong (CHN)
Honor Pioneer Swimmer (2013)
The information on this page was written the year of their induction.
Growing up in Tianjin, China Mu Chengkuan thrived in an era when China was adopting the western culture of physical fitness. He was a champion cyclist, a Kung-fu master and excelled as a swimmer. In 1941, he dared to challenge foreigners in a swimming match, which was the basis of a scene in the famous movie that was based on his life, "Enter the Water Dragon." His victories over Western athletes boosted Chinese patriotism and Mu became a household name almost over night. With a vision to help the nation form a new national identity by training Olympic champions, he taught his children and others in his village a variety of sports. Noticing the dominance of Japanese and Filipino swimmers at the 1936 Olympics, particularly in the breaststroke – and their physical characteristics were similar to the Chinese – he focused on swimming. In 1952, when China held their first national swimming meet, three of his sons and one daughter all won national titles. The most promising was the second son, Mu Xiangxiong.
Born in 1935, Mu Xiangxiong was a swimming prodigy, winning provincial titles at the age of 13 and setting national records in the 100 and 200 meter breaststroke in 1952. A diligent and hard working athlete, capable of swimming 40 to 50 meters underwater, he achieved amazing results and was considered by many to be a gold medal favorite at the Olympic Games in 1956. Unfortunately, a political dispute with the International Olympic Committee kept Mu and other Chinese athletes from competing in Melbourne. Following those Olympic Games, FINA banned underwater breaststroke. This was a big upset to Mu. Yet, under the watchful eye of his father, other coaches and with the help of his teammates, he made a successful adjustment to swimming on the surface. On December 20, 1958, at a swimming competition in Beijing, he set a new world record in the 100 meter breaststroke. In 1959, he lowered the record to 1:11.1, a time not achieved outside of China until 1961, when Hall of Famer Chet Jastremski tied the mark. However, because China had withdrawn from the IOC and FINA, Mu's records were never recognized.
After his retirement from competition, young Mu joined his father coaching in Hebei Province. His brothers also followed in their father's wake, working to promote swimming in China. First son, Mu Xiangying became an administrator in the Swimming Department of the State Administration of Sports. Third son Mu Xianghao, was the head coach for the Chinese national swimming team and is now a coach in the USA. A fourth son became the head coach for the Beijing swimming team.
The Mu family had come a long way from a brave fishing village family to the most renown swimming family in China. Although away from international competition for many years, Mu Xiangxiong is still active, teaching hundreds of children a year to swim in the swim center named after him in his hometown.