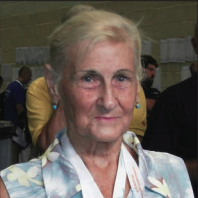 Olga Kokorina (RUS)
Honor Masters Swimmer (2022)
The information on this page was written the year of their induction.
INTERNATIONAL HIGHLIGHTS: 34 FINA MASTERS WORLD RECORDS, WORLD POINTS-1281, COMPETED IN 4 AGE GROUPS (75-79 THROUGH 90-94); TOP TEN: 16 TIMES; 25 LONG COURSE AND 9 SHORT COURSE FINA BREASTSTROKE AND I.M. MASTERS WORLD RECORDS, EIGHT OF THEM STILL STANDING. IN WORLD RANKINGS SINCE 1998, SHE HAS 44- NUMBER 1, 6- NUMBER 2 AND 5 – NUMBER 3 LONG COURSE AND 13- NUMBER 1 AND 2- NUMBER 2 SHORT COURSE FOR A TOTAL OF 57- NUMBER 1, 8- NUMBER 2 AND 5- NUMBER 3 TOTAL WORLD RANKINGS IN THE BREASTSTROKE, BACKSTROKE, FREESTYLE AND I.M. SHE COMPETED IN 5 FINA WORLD CHAMPIONSHIPS (2000, 2004, 2006, 2010, 2012) WINNING 18 GOLD AND 2 SILVER MEDALS 
Russia's Olga Kokorina, born in 1923, was a swimmer her entire life. As a young adult, she was a nine-time winner of the USSR championships. In the early 1950's, she graduated from the Leningrad Institute of Physical Culture and for many years she worked as a swimming coach, where she prepared more than one generation of champion swimmers. 
Olga did not begin competing as a Masters swimmer until 1998, when Masters swimming began in Russia. At 75 years old, she began breaking world records in almost every competition she took part in. In that first year, 1998, she decided to risk it all and flew to the United States using all her money to take part in the World Masters Games in Portland, Oregon, where she won three gold medals and established a world record in the 100m breaststroke. The next year at the European Championships in Innsbruck, won three gold medals and broke two world records.
In 2001 at the European Masters Championships in Spain, she became the first woman over 75 to break the 50 second barrier in the 50M breaststroke. She stopped the clock at :49.52 seconds, destroying the European standard of :52.29 that she had set at the same championships two years prior. She also dipped under the world record of :50.65, set by Japan's Satoko Suzuki in 1999.
In January 2013 Olga entered a new age group of 90-94. When she saw the records table, she realized it was possible to better nine to eleven world records. The big decision was, at what events? Olga chose the Open Championship of France (sc) where she competed in six events, breaking four world records. In April, she swam in the Open Championship of Russia (lc) where she added another two world records. In June, she broke another two world records at the St. Petersburg Open (lc). In September, she broke yet another two world records at the European Championship (lc). To close out the year, she traveled to the Open Cup of Russia (sc) and added another two records, putting her total for the year at 12 world records. With all her achievements, she was easily named the 2013 Masters Swimmer of the Year by Swimming World Magazine.
In her 17 years in Masters swimming, she broke 34 world records and won more than 50 gold medals. Olga Kokorina passed away in January of this year.