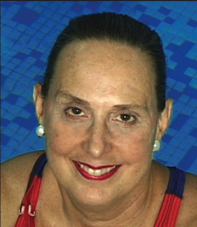 Dr. Jane Katz (USA)
Honor Masters Contributor (2022)
The information on this page was written the year of their induction.
INTERNATIONAL HIGHLIGHTS: LIFELONG DEDICATION TO AQUATICS: TEACHING LESSONS IN NYC TO MANY UNDERSERVED COMMUNITIES, IN ADDITION TO NYC POLICE, NYC FIREFIGHTERS AND OTHERS; TRAVELED AROUND THE COUNTRY AND WORLD PROMOTING AQUATICS, SYNCHRONIZED SWIMMING WAS A FAVORITE; AUTHOR, INSTRUCTOR, LECTURER, TEACHER, VOLUNTEER AND ATHLETE; 1994 FINA MASTERS WORLD CHAMPIONSHIPS: 2 GOLD (SOLO SYNCHRONIZED SWIMMING, 400M FREESTYLE SWIMMING), 2006 FINA WORLD MASTERS CHAMPIONSHIPS: 7TH DUET; 13-TIME WORLD MACCABI GAMES MEDALIST
Dr. Jane Katz began her love affair with water and synchronized swimming, after seeing an Esther Williams movie on television. For Jane, it began at New York City Park's Department Hamilton Fish Pool where she and some friends put together a routine, which they were eventually asked to perform at the annual pool's celebration. Jane's synchronized swimming took her to places she never dreamed possible.
Through her college years, she competed at the local and regional levels whenever possible. As her synchronized  swimming progressed, it propelled her onto the national and international stage. In 1964, at the Tokyo Olympic  Games, Jane was a member of one of three groups selected to put on a synchronized swimming demonstration  during the aquatics portion of the Games. 
At the opening ceremonies of the Hall of Fame Pool in 1965, in Fort Lauderdale, Jane was invited to perform a solo routine during the festivities.
In 1974, Jane helped inaugurate and competed in the very first Masters Synchronized Swimming National Championships, which were held in Reading, Pennsylvania. She would go on to win 17 solo synchronized swimming championships, in addition to duet, trio and team competitions. Eventually, Jane even created synchronized swimming classes at Asphalt Green in New York City, teaching basic skills to all those who wanted to learn.
But it hasn't always been synchronized swimming that excited Jane. She has taught thousands of students the benefits of swimming and water fitness. Mostly as an instructor at John Jay College in New York City, but also in programs teaching many other groups of New Yorkers, including the NYC police department and firefighters. Not only has Katz taught hundreds of clinics and learn-to-swim programs, she developed numerous programs to help so many, including underserved populations. In 2007, Jane helped create the KARE (Kids Aquatic Re
Entry) Program, in cooperation with the Department of Juvenile Justice to help troubled youth learn life's lessons poolside. In 2015, she launched WETs 4 VETs, a service for rehabilitating the mind, body and spirit of military veterans re-entering civilian life using holistic water exercise techniques. She has also created a Co-ed program for Senior minority men and women called the NORC (Naturally Occurring Retirement Community) Program.
For all her years of service in the aquatics industry, Jane has been recognized by numerous organizations. In 2000, FINA presented her with the Certificate of Merit to honor her lifetime dedication to the sport of swimming from 1957-2000. In 2011, she received the United States Masters Swimming Fitness Award. In 2014, she was the recipient of the Lifetime Achievement Award from the President's Council on Fitness, Sports, and Nutrition.
We cannot neglect to mention that Jane is a successful competitive swimmer too. She has competed in 13 World Maccabi Games, all over the world, winning a total of 11 individual and two relay medals. She is a US National and World Champion and is a 34-time All-American in swimming. She has been inducted into the International Marathon Swimming Hall of Fame, as well as the National Jewish Hall of Fame for her pioneering athletic contributions to the field of aquatics. She is a best-selling author and has published 14 books on swimming, fitness and exercising in the water.
Aquatics has been a part of Dr. Jane Katz's life for as long as she can remember. Tonight we honor her and all the contributions she has made in all the different avenues of aquatic sports.