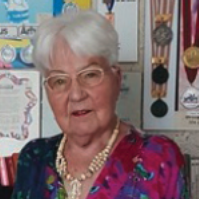 Edith Böhm (GER)
Honor Masters Swimmer (2022)
The information on this page was written the year of their induction.
INTERNATIONAL HIGHLIGHTS: 29 FINA MASTERS WORLD RECORDS, WORLD POINTS-1124, COMPETED IN 6 AGE GROUPS (55-59 THROUGH 80-84); TOP TEN: 22 TIMES; 15 LONG COURSE AND 13 SHORT COURSE FINA BREASTSTROKE MASTERS WORLD RECORDS, SHE HAS 36- NUMBER 1, 5- NUMBER 2 AND 21 – NUMBER 3 LONG COURSE AND 18- NUMBER 1, 14- NUMBER 2 AND 10- NUMBER 3 SHORT COURSE FOR A TOTAL OF 54- NUMBER 1, 19- NUMBER 2 AND 31- NUMBER 3 TOTAL WORLD RANKINGS IN THE BREASTSTROKE, BACKSTROKE, BUTTERFLY AND I.M. SHE COMPETED IN 7 FINA WORLD CHAMPIONSHIPS (1986, 1988, 1992, 1994, 1996, 1998, 2004) WINNING 18 GOLD, 7 SILVER AND 4 BRONZE MEDALS IN BREASTSTROKE, BACKSTROKE AND BUTTERFLY 
Like most Masters swimmers, Edith Böhm lived a typical swimmer's life. Born in Ostrava, Czech Republic in October of 1928, she learned to swim in the river Oder. She loved swimming as a girl and young adult and had some success in her home country of the former Bohemia. At school she took part in different swimming events and won events in Bohemia and Moravia at the age of 14. Unfortunately, the Second World War put a stop to everything. 
After the war, Edith and her family had to leave their home in Ostrava, and create a new life in Bavaria, Western Germany. Edith eventually became mother to son, Joachim in 1954, and as he got a bit older, she took a job.
She eventually retired from working, due to a serious injury where she suffered a slipped disk in her neck. During her long convalescence, the only relief she was able to get was by swimming. As a result, she would accompany her blind daughter-in-law to the pool. Her daughter-in-law was a member of the Handicapped Sports Club Bavaria and Edith eventually became a member. It was there she met her life partner, Sigi, who became her coach.
As her swimming improved, she participated in German and European Championships with great success in her age group. The first real international success Böhm had was at the 1986 FINA World Championships in Tokyo. She won two gold medals in the 50m and 100m breaststroke, and a silver medal in the 200m breaststroke. Her time of :42.92 in the 50m breaststroke broke the existing world record and became the first of many to come.
Two years later, at the II FINA Masters World Championships in Brisbane, Edith broke two more world records in the 50 and 100 meter breaststroke. In 1992, she traveled to Indianapolis for the IV FINA World Championships and once again she broke the world records in the 50 and 100-meter breaststroke. In 1994 she headed to Montreal for the V FINA World Masters Swimming Championships and again broke the world records in the 50 and 100m breaststroke. It was getting to be a habit. In 1998, Edith was off to Morocco and the VII FINA World Championships where she upped her game and broke three world records, this time adding the 200 breaststroke. Edith ended up attending a total of seven FINA Masters World Championships. She only swam the 50-meter breaststroke in 2000 in Munich, Germany, where she won the gold medal and set another world record. In 2004, she won gold in the 50 and silver in the 100 breast in Riccione, Italy.
From 1988 to 2008, Edith has been ranked in the FINA Top Ten, 22 times while competing in four different age groups. She set a total of 29 world records in the breaststroke events, one of them lasting seven years. Edith's last world record was broken on June 7, 2008, in Lindau, Germany.
Today, Ms. Böhm is 93 years old and swims only for pleasure and to stay healthy. She is a swimming trainer for the elderly and the handicapped and says everything is not as fast and as easy anymore, but she is lucky to be in good condition.