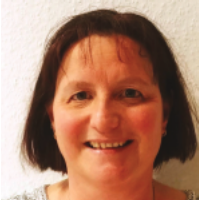 Birte Hohlstein (GER)
Honor Masters Synchronized / Artistic Swimmer (2022)
The information on this page was written the year of their induction.
INTERNATIONAL HIGHLIGHTS: 11 FINA MASTERS WORLD CHAMPIONSHIPS 1994-2019, 16 MEDALS (10 GOLD, 3 SILVER, 3 BRONZE). NUMEROUS MEDALS IN GERMAN NATIONAL CHAMPIONSHIPS AND LEN EUROPEAN CHAMPIONSHIPS
If you ask her, she will tell you the most important thing in her life is synchronized swimming. Of course that doesn't mean it is more important than her children, or her husband or her sister who has been her duet partner for the last 30+ years. It simply means that synchronized swimming is woven through all parts of her life including her family life as you will hear, and she could not imagine a life without it.
Birte Hohlstein found herself in the swimming pool at age four. Her family lived in the city of Willich, Germany and she would accompany them to the pool for her sisters synchronized swimming training. Her father, Helge, was in charge of the technical equipment and music during the practice, Mother Ingeborg was the coach and sisters Silke and Kirsten were the synchronized swimmers. Birte, being only four, would keep herself busy playing in the shallow end, awaiting the day she could follow in her sister's footsteps. 
Birte made the Senior National team in 1984 and in 1985. The sisters, Kirsten, Silke and Birte all participated together with the German National Team in an international competition in London, the only time three sisters from the same family competed together on the German National Synchronized Swimming Team.
In 1986, Birte partnered with Silke in duet after their eldest sister Kirsten became pregnant, ending her swimming career, leaving Silke without a partner, Birte being the logical choice. Partners they became, and in 1986, in their first German open competition, as a duet, they placed third, winning bronze, surprising everyone especially themselves as some of their competitors were Olympic caliber-athletes.
Birte left the National team and world stage in 1990 for her studies to become a physical therapist, although she did still compete in regional, federal and German open competitions through the mid 1990's, where she continued to win medals in solo, duet, with several different partners, and team.
Birte's sister, Silke, also a MISHOF Honoree (2017) was in a terrible car accident in 1992, which was the main reason Birte had new and different partners. Silke almost lost her life, and fell into a deep depression, which was the reason Birte discovered Masters Swimming. She realized she had to give Silke a reason to go on living. If synchronized swimming was important to Silke previously, it could be again! Birte did some research and discovered an event called the FINA Masters World Championships to be held in 1994 in Montreal, Canada. She told Silke about it, which gave her a goal and a reason to get out of bed, a reason to fight and to get back in the pool.
So together they worked toward a new goal of competing at the event. Birte, along with Silke, attended her first Masters event and they came away gold medalists in the duet category in the 25-29 age-group. The sisters had been limited to only solo and duet events because there were no Masters teams in their region. They briefly joined a team based in Berlin which brought them the gold medal in team, as well as duet, at the 1998 Worlds in Casablanca, Morocco. They have also competed in trio twice, coming away with gold and silver medals.
Since that first trip to Montreal in 1994, Birte has attended 11 FINA Master World Championships with her sister and has won ten gold medals, three silver and three bronze in duet, team, trio and or solo events. They have also participated in all European Championships available, and they have always come away with medals, and you can bet they are usually gold.