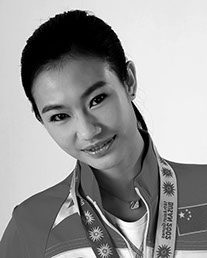 Lao Lishi (CHN)
Honor Diver (2015)
The information on this page was written the year of their induction.
FOR THE RECORD: 2004 OLYMPIC GAMES: gold (10m platform synchro), silver (10m platform); 2003 WORLD CHAMPIONSHIPS: gold (10m platform synchro), silver (10m platform); 2002 ASIAN GAMES: gold (10m platform)
Lao Lishi actually got into the sport of diving by mistake. She would go to her brother's practices with her mother and became restless, so while looking for something to do, she found a trampoline. The amateur sports school's coach, Zhong Quansheng noticed the little girl's coordination and boldness. So, in 1995, Lao Lishi the pre-schooler became a
member of the Chikan Diving School of Amateur Sports Schools.
Although Lao Lishi was much smaller and much thinner than her peers, she had a strong will and unyielding spirit. It were these qualities that helped her to be selected to the Guangdong Provincial Diving Team in March 1998, and then to the National Team in December of 2001, where she began training under Coach Zhang Ting. It was then that
Lishi's performance began to skyrocket.
In 2002, Lao Lishi debuted on the international scene, winning the 10 meter platform on the FINA Grand Prix circuit in Spain, Canada and Fort Lauderdale. She was a winner at the FINA World Cup and the Asian Games, returning home to win the Chinese National Championship. She continued winning in 2003, capturing gold medals in Australia and home in China at the Grand Prix, both as 10 meter platform individual and synchronized champion. She finished the year winning gold and silver medals at the FINA World Championships in Barcelona.
The pinnacle of Lao Lishi's career came at the 2004 Athens Olympic Games, where she and teammate, Li Ting, dove their way to Olympic gold in the 10 meter synchronized diving event. In the individual 10 meter event she won the silver medal.
Lishi's hometown of Zhanjiang City was so proud of her that the city built a 12.8 meter diving goddess sculpture, commemorating Lao Lishi's Olympic gold medal performance.
In Athens, Lishi had reached the highest stage and although it was all that she had dreamed it would be, she quickly
left the spotlight and the national team due to injuries and having a desire to pursue her education. She returned to the Guangdong Province Diving Team and competed in her country's National Games, where she led their team to excellent results based on her wealth of knowledge and experience.
In April of 2010, Lao Lishi officially retired from diving. Two months later she graduated from Zhongshan University and started looking for a job. She found her credentials as an Olympic Champion had little impact, and it was a year before she found work in a government office.
After two years, she quit her secure position as she believed life should be more "colorful", as she put it and decided to gamble on her entrepreneurial possibilities. At first she thought of opening up a store that might benefit from her celebrity, but rents were high. Instead she established an online e-store on Weibo (China's version of E-Bay) to begin selling wood bracelets, turning her life away from sports completely. Her store has been a runaway success, and on September 19, 2014, Lao Lishi was invited by Jack Ma to be one of the opening bell ringers as China's e-commerce giant Alibaba Group began to sell public shares on the New York Stock Exchange. As Lishi learns more about the world of e-commerce, and the world learns of her success in diving, Lishi's e-store can only continue to grow and succeed like Lao Lishi's diving career.