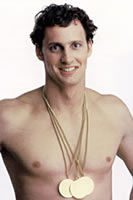 Jim Montgomery (USA)
Honor Swimmer (1986)
The information on this page was written the year of their induction.
FOR THE RECORD: OLYMPIC GAMES: 1976 gold (100m freestyle, 2 relays), bronze (200m freestyle); WORLD CHAMPIONSHIPS: 1973 gold (100m, 200m freestyle; 3 relays); 1975 gold (2 relays), bronze (100m freestyle); 1978 gold (2 relays), silver (100m freestyle); NCAA CHAMPIONSHIPS: 8 (100yd, 200yd freestyle; 5 relays); AAU CHAMPIONSHIPS: 11 (100yd, 200yd, 100m, 200m freestyle; 4 relays); WORLD RECORDS: 11 (100m freestyle; 7 relays).
Jim Montgomery was the first man to swim 100 meters freestyle under 50 seconds (49.99). Breaking this barrier was equivalent to Roger Bannister's four minute mile in track. That Montgomery did it while winning an Olympic gold medal (July 25, 1976) at Montreal is a double dose of immortality. He won two more golds and a bronze in those Olympics, but his record as king of the World Championships is still more phenomenal. He won a record five golds in the first World Championships at Belgrade in 1973 and repeated with four golds, a silver and a bronze in Cali 1975 and Berlin 1978.
Jim was a sprinter but he also won and set American records at 200 meters and even took the 2.4 mile Waikiki Roughwater Ocean swim nine years after his retirement from college and U.S.S. swimming.
Montgomery's principal coaches were Jack Pettinger in Madison and Doc Counsilman at Indianan. He was a mental swimmer and believed concentration and goal setting make the difference. He got a bad case of infectious mononucleosis in 1973 which rested him up for the world Championships and made him decide he was a sprinter. He coached the Lone Star Masters which wont he Masters Nationals in his first year of coaching. An honor business school graduate, Jim Montgomery is marketing what he knows best, aquatics and fitness at all ages throughout the world.