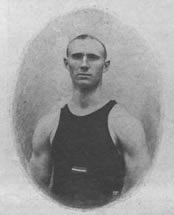 Zoltan Halmay (HUN)
Honor Swimmer (1968)
The information on this page was written the year of their induction.
FOR THE RECORD: OLYMPIC GAMES: 1900 silver (200m, 4000m freestyle), bronze (1000m freestyle); 1904 gold (50yd, 100yd freestyle); 1906 gold (4x250m freestyle relay), silver (100m freestyle); 1908 silver (100m freestyle; 4x200m freestyle relay).
From the first Olympic Games in 1896 to the fifth in 1908, there is just one name that appears on the medal list in each of these Games. He's Hungarian swimmer Zoltan Halmay, who still holds the record as the only swimmer to medal in five Olympics. His 10 medal total is another record that perhaps will never be broken. His medals were in events ranging from 50 meters to 4000 meters. Perhaps Halmay's greatest Olympics was 1904 at St. Louis when he beat the great Charlie Daniels to win the 100 yd. freestyle.
There were 18 swimmers from six nations in those original 1896 Olympics and all events were freestyle. By 1908 (London) there were 149 competitors with the breaststroke, backstroke and a freestyle relay added to 100, 400 and 1500 meter freestyle races. Halmay was still around for the 100, but Charlie Daniels was now swimming crawl and Halmay's trudgen was good for a bronze medal.
Ferenc Csik became the third Hungarian to win the 100 freestyle in 1936 (Berlin), a long dry spell after Alfred Hajos (1896) and Zoltan Halmay (1904). In 1952, the Hungarians dominated women's swimming as no country ever has, before or since. Kato Szoke and Judit Temes were first and third in the 100 meter freestyle with Valeria Gyenge and Eva Novak placing 1-2 in the 400 meter freestyle. In the 400 freestyle relay, it was the Novak sisters, Eva and Ilona, along with Szoke and Temes. Eve Szekely and Eva Novak won the gold and silver medals in the breaststroke, with Killerman, another Hungarian, fourth.