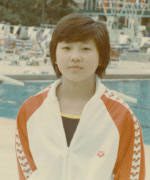 Zhou Jihong (CHN)
Honor Diver (1994)
The information on this page was written the year of their induction.
FOR THE RECORD: 1984 OLYMPIC GAMES: gold (platform); 1982 WORLD CHAMPIONSHIPS: bronze (platform); 1982 ASIAN GAMES: silver (platform); 1983 FINA WORLD CUP: gold (platform).
Five feet one and a mere 97 pounds, Zhou Jihong is the first Chinese diver to be officially inducted into the International Swimming Hall of Fame, as well as the first Chinese woman ever to win an Olympic gold medal in the 10 meter platform diving event.
Zhou Jihong won a bronze at age 17 in the 1982 World Championships and silver the same year at both the Asian Games and Canada Cup. She was a rising talent, and her ability shone at the 1983 FINA World Cup when she won the gold medal, beating USA's favorite Wendy Wyland.
By age 19, Zhou had developed the skill and maturity to outscore the world's best tower divers and was ready when her big chance came. Before a crowd of 20,000 at the McDonald's pool on the campus of USC at the 1984 Olympics, Zhou Jihong certainly was not the favorite going in to the 10 meter platform event. In fact, her teammate, the elegant Chen Xiaoxia, was so dominant on the international scene, that few photos of Zhou even exist.
In a surprise victory, the diminutive Zhou beat American Michele Mitchell by three points to take the gold medal. Wendy Wyland took the bronze, and Zhou's teammate, Chen, took fourth.
Even after winning the gold, modest Zhou, the consummate teammate, said, "I am very happy I won, but she (Chen Xiaoxia) normally would have done better than me." Zhou Jihong became the first diving gold medalist ever for China. She was named 1984 Female World Platform Diver of the Year for her powerful Olympic performance.