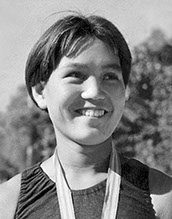 Zhang Xiuwei (CHN)
Honor Pioneer Diver (2017)
The information on this page was written the year of their induction.
FOR THE RECORD: BORN IN 1944; SHANXI; STARTED DIVING IN 1956; GRADUATED FROM TIANJIN INSTITUTE AS A PROFESSOR AND HEBEI SPECIALIST; 1963 WON THE 3M SPRINGBOARD DIVING EVENT; WON 10M PLATFORM GOLD MEDAL AND 3M SPRINGBOARD BRONZE MEDAL; WON 3M SPRINGBOARD SILVER MEDAL AT ASIAN GAMES; 1972 BECAME COACH OF HEBIE PROVINCE DIVING TEAM; MANY OF HER STUDENTS HAVE BECOME DIVING COACHES; A NOVEL AND MOVIE MADE BASED ON ZHANG'S CAREER.
In 1958, when she was 14 years old, she knew nothing about diving and didn't even know how to swim, but coaches saw something in Zhang Xiuwei that led them to select her for a beginning diving program in the city of Tianjin, China. Xiuwei progressed rapidly and a year later, training under coach Wu Chengxi, she was selected for the national training program in Beijing, with athletes from all over China. The program was overseen by Soviet diving experts and in 1960, Xiuwei won the national youth springboard championship at the age of 16.
In 1963, Xiuwei was chosen to represent China in the Games of the New Emerging Forces (GANEFO) in Indonesia. It was the first time that Chinese divers competed internationally, outside of China and Xiuwei won a bronze medal in the 10m platform event and a gold medal in the 3m springboard. It was the first international diving gold medal in China's history.
In 1964, China's Changchun Film Studio released "The Diving Girls" one of the first Hollywood-style movies made in the People's Republic of China. It was based on the story of Zhang Xiuwei. For over fifty years this film has inspired young girls in China to dive into the pool, to train hard, to aim high and to compete in international competitions.
Xiuwei and China's nascent diving program were on the rise until 1966, when Mao Zedong unleashed the Cultural Revolution, which threw China into a period of social and political chaos. Elite sports programs ended and athletes like Zhang Xiuwei were sent to work on farms or in factories. When the revolution abated in 1972, Xiuwei was assigned to return to diving as a coach, but she knew nothing about coaching and there were no divers. Then in 1973, she was sent to Guangzhou to watch demonstrations by two American Olympic Champions: Bernie Wrightson and Micki King. It was a life-changing experience and motivated her take coaching seriously. She became a professor at Tianjin Athletic Institute and taught many top national and regional divers and coaches. Among her students is Li Yihua, a 1984 Olympian who won several world cup titles. Another was Li Fang the coach who provided Guo Jingjing with the solid foundation that made her one of the greatest divers in history.