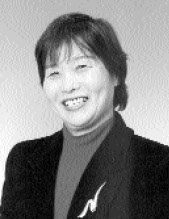 Yoshiko Osaki (JPN)
Honor Masters Swimmer (2004)
The information on this page was written the year of their induction.
INTERNATIONAL HIGHLIGHTS: World Points – 1501, Pre-1986 Points – 0, Total Points – 1501; Since 1984, she competed in 4 age groups (45-49 thru 60-64); 70 FINA MASTERSWORLD RECORDS;
Yoshiko Osaki was born March 30, 1938, in Gosyo City, Nara Prefecture, Japan. She was a member of her junior high school athletic club and had a chance to take part in a swimming meet of the Nara Prefecture as a member of a relay team.With this meet as a start and nowas a third-year junior high student, she became amember of the school's swimming club and began a swimming career that never stopped. By the time she entered Gojyo High School and with a few years of swimming background, she began competing on the national and international levels.As a second-year student of high school she participated in the first of three Asian Games, representing Japan.
Yoshiko competed in the 400m freestyle and 4x100m freestyle relay in the 1954 Asian Games of Manila. Four years later at the 1958 Asian Games in Tokyo, she won gold in the 100m and 200m freestyle, the 4x100m freestyle relay and the 4x10m medley relay. She repeated these gold medal wins again at her third Asian Games in Jakarta in 1962. In between the Asian Games, she represented Japan at the 1956 Melbourne Olympics and 1960 Rome Olympics competing in the 100m and 400m freestyle. Her 4x100m medley relay took seventh place in Rome.
On a national level competing in the Japan Swimming Championships, Yoshiko won four consecutive victories in the
100m freestyle from 1958 to 1961. She won seven consecutive victories in 200m freestyle from 1955 to 1961. In nine years from 1954 to 1962 she established 97 new Japanese records in six freestyle events from50meters to 1,500meters, the highest number of records by one person in Japan's history.
In 1963, Yoshiko retired fromactive competitive swimming and married Yoshihiko Osaki, her Rome Olympics teammate and currently chairman of the Japan Masters Swimming Association. Yoshihiko won the silver medal in the 200m breaststroke at the Rome Olympic Games of 1960.
In 1984 Yoshiko participated in the first Japan Masters Long Course Swimming Meet, her debut in Masters Swimming, and won the victory in the 50m freestyle with the time of 32.75. Beginning with the first World Masters Swimming Games of the next year in Toronto, she has participated in all World Masters Swimming Championship and Pan PacificMasters Swimming Championships, winning 20 Masters World Championships and 17 Masters Pan Pacific Championships. She has set 83 FINAMasters World Records – 35 LCM and 48 SCM in the freestyle, butterfly and IM events. She has set 104 Japan Masters National Records – 43 LCM and 61 SCM and has won 123 Japan National Masters Championships – 51 LCM and 72 SCM.
In her 20 years of swimming Masters, she has raced in over 193,000 competitions and has dedicated her swimming career to maintaining a high standard for the Masters Program and helping others strive for high standards.