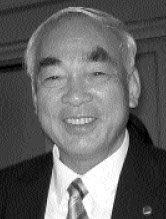 Yoshihiko Osaki (JPN)
Honor Masters Contributor (2006)
The information on this page was written the year of their induction.
INTERNATIONAL HIGHLIGHTS: Director of: Japan Amateur Swimming Federation (1987-present), Osaka Swimming Association (1970-present), Director and President of JapanMasters SwimmingAssociation (1984-present); President of Shakai Taiku Kaihata Kenkyu-Sho (Institute for Development of Physical Education, 1973-present); 1960 OLYMPIC GAMES: silver (200m breaststroke), bronze (4x100m medley relay); 1958 Japan-Australia Dual Meet: silver (200m breaststroke); 1959 Japan-United States Dual Meet: silver (200m breaststroke), bronze (100m breaststroke); Director of Japan Swimming Club Association (1987-present); 1986-2002 FINA Masters World Swimming Championships: 7 gold, 2 silver (50m breaststroke).
Growing up in the seaside town of Wajima, Japan, the sea presented a natural playground for he and his friends. His father was also a competitive swimmer so it is no wonder that for Yoshihiko Osaki, swimming is in his blood. He competed throughout high school but not until he went to college did he meet national success. Such success, that he was selected as a member of the 1960 Olympic team. After a disappointing second place finish to Bill Mulliken, Yoshihiko returned home a very determined man.
He first put sights on a beautiful woman, and Hall of Famer, Yoshiko who married him in 1964. They have two daughters and a son who follow the family legacy of swimming.
In 1984, Yoshihiko was instrumental in establishing the Japan Masters Swimming Association and served on the board and as President since 1992. In 1986, as meet director he organized the first FINA World masters championships in Tokyo with 3,400 participants. Since 1993, he has participated in every international masters meet throughout theworld. He has contributed to wide spread masters swimming in Japan and has promoted opportunities of international exchange. Due to his contributions, today Japanese Masters Swimming has over 43,000 members. Since its inception, more than 90 official meets has been held, and about 120,000 records are authorized and about 60world records and 420 national records are established each year.
In his spare time, Yoshihiko runs a company that manages 17 swimming facilities, coaches beginning masters swimmers as well as his family relay team. As a competitor, he enjoys competing againwith Bill Mulliken and other masters swimmers. He has competed in five different age groups, has established 9 FINA World Masters Records and 7 FINA Masters world championships. Yoshihiko is the face of Japanese masters swimming and the 43,000 members appreciate his dedication and commitment as they swim for health, fun and gold. For a man who lost his opportunity for an Olympic gold medal, now, has his gold medal, in life.