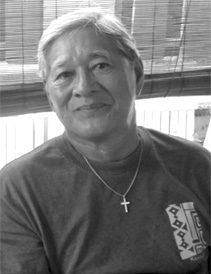 Yoshi Oyakawa (USA)
Honor Masters Swimmer (2017)
The information on this page was written the year of their induction.
INTERNATIONAL HIGHLIGHTS (SWIMMER): World Points-634, Pre 1986 Points- 11, Total Points-645; Since 1974, he has competed in 9 age groups (40-44 through 80-84). 27 FINA MASTERS WORLD RECORDS.
Yoshinobu Oyakawa, born on the Kona side of the big island of Hawai'i, was a swimming stand-out at Hilo High School. He continued his career of swimming though his college years at the Ohio State University under the great Hall of Fame Coach, Mike Peppe. While Oyakawa was attending Ohio State, he made his first Olympic team at the age of 19. He represented the United States of America, when he travelled to Helsinki, Finland in 1952. Yoshi did not disappoint. He won the gold medal in the 100m backstroke.
In 1956, Oyakawa again made the Olympic team, where, along with Ford Konno, he was elected co-captain of the US team. At that time, he was also a 2nd Lt. in the United States Air Force.
Yoshi is considered to be the last of the great "straight-arm-pull" backstrokers, and was inducted into the International Swimming Hall of Fame as an Honor Swimmer in 1973. Now, 44 years later, Yoshi is again being recognized by ISHOF, but this time, for his career in Masters swimming.
Swimming has always been a big part of Oyakawa's life. Growing up in Hawaii, Yoshi says, the ocean, the rivers and the pool at the Naval Air Station made swimming an everyday occurrence for him. So, when Ransom Arthur started Masters Swimming in the 1970's, Yoshi says he was first in line!
Even though Oyakawa started swimming Masters in the early 1970's, he didn't seriously pursue it until 1985. He has been in the Top Ten for a total of 28 times. He has set a total of 27 FINA Masters world records, 13 long course and 14 short course meters, all of them in the backstroke. He has competed in three FINA Masters World Championships, winning eight gold, two silver and one bronze medal in the backstroke and freestyle events.
Yoshi says that Buster Crabbe once told him many years ago that swimming was the BEST SPORT and the people involved became your BEST FRIENDS! HOW TRUE, Yoshi says!!