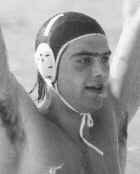 Yevgeni Sharonov (RUS)
Honor Water Polo (2003)
The information on this page was written the year of their induction.
FOR THE RECORD: 1980 OLYMPIC GAMES: gold; 1988, 1992 OLYMPIC GAMES: bronze; 1982 WORLD CHAMPIONSHIPS: gold; 1986 WORLD CHAMPIONSHIPS: bronze; 1983, 1985, 1987 EUROPEAN CHAMPIONSHIPS: gold; 1981 EUROPEAN CHAMPIONSHIPS: silver.
At the age of 14 in 1972, Evgeni Sharonov launched his water polo career participating in the school children's spartakiad. Immediately he was named the best goalkeeper. His fast reactions, quick hands and fearless play made Evgeni one of the world's best goalkeepers and Russia's stalwart for its fine defense and world prowess during the 1980s.
After two years on the USSR Youth National Team, Sharonov began playing on the National Team in 1979. He rose to prominence during the 1980 Moscow Olympics the following year when he became the team's starting goalie at the young age of 20. From that time, he evolved into one of the best goalies in the world. He continued his gold-medal winning ways at the 1982 World Championships in Guayaquil, where he was awarded "best player" honors. In tough European Championship competitions of 1981, 1983, 1985 and 1987, he and his team won three gold medals and a silver.
In 1987, Sharonov was voted the top goalie at the FINA CUP in Salonika, Greece, where the Soviet Team finished second to Yugoslavia. Later in the year in Strasbourg, France, he knocked down enough shots to help give his team the gold medal and distinguish himself as Swimming World's Male Water Polo Player of the Year. In Olympic competition of 1988 and 1992, his teams won bronze medals. Sharonov always had a large following in Europe where female fans dubbed him "velvet eyes."
Since retiring in 1992, he has been Vice President of the Water Polo Federation of Russia and a member of the FINA Technical Water Polo Committee since 1996.