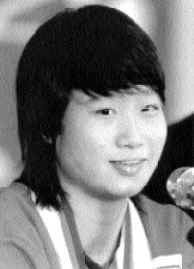 Xu Yanmei (CHN)
Honor Diver (2000)
The information on this page was written the year of their induction.
FOR THE RECORD: 1988 OLYMPIC GAMES: gold (10m platform); 1990 ASIAN GAMES: gold (platform); 1987 FINA WORLD CUP: gold (platform); 1985 Woman World Age Championships (USA): gold (3m); World Diving Grand Prix (Spain): 1986 gold (10m, all-around) bronze (3m), 1989 gold (10m); 1986 International Diving Meet in Democratic Germany: gold (10m); 1986International Meet in New Zealand: gold (10m); 1986 XX Asia Games: silver (10m); 1987 International Diving Invitational (New Zealand): gold (10m); 1987 Southern Cross International Diving Meet (Australia): gold (10m); 1987 X World Cup: gold (10m); 1987 X National Game of China: gold (10m); 1988 Canada International Diving Meet (Toronto): gold (10m); 1999 China Open: gold (10m); 1990 International Diving Invitation (Jinan, China): gold (10m).
Since the early 1980's, China has been the rising star in developing new international diving champions on both springboard and platform. No exception to this is 1988 Olympic Platform Gold Medalist, Xu Yanmei. At 5 feet 3 inches and 105 pounds, Xu became China's best platform diver immediately following 1984 Olympic champion and fellow teammate, Zhou Jihong.
Xu was born in Chiang Xi Province in 1971. She lived with her parents, who were factory workers, as well as two older brothers and a sister. At the age of five, her parents sent her to Hunan to live with her grandparents. Two years later, she was back in Chiang Xi to enroll in school. At the age of eight, she was recruited to start training in physical education at a near-by school and was soon selected for training by the Chiang Xi Diving Team where she continued to make progress year after year. At age thirteen in 1984, she successfully joined the Chinese National Diving Team under the coaching of Xu Yiming. During this time she studied hard while maintaining a simple living.
By 1985, Xu qualified to compete in various international meets for China. It was not until 1987 that she won her first international gold medal in the 10m platform at the World Cup in Holland as well as gold medals at the Swedish Flag Meet in New Zealand and the Australian International. Later that year, she won her first Chinese National Championship. With this background, she was ready to compete at the 1988 Seoul Olympics. One year later, she was standing on the Olympic victory stand with the gold medal around her neck having beat silver medalist Michele Mitchell (USA) by nine points.
Xu was selected as one of China's ten most influential athletes and China's greatest female athlete. "Swimming World" selected her as the 1988 Female Diver of the Year in platform while teammate Gao Min was selected for the springboard. Xu continued diving for another two years, winning gold at the 11th Asian Games in 1990 in Beijing.
However, due to long-term training in the water, her eyes had developed serious disorders which prevented her from continuing. In the Spring of 1991, she resigned and was approved to leave the Chinese National Team. During a period of over ten years, Xu had participated in over sixty contests and won over fifty medals and prizes.
After retirement, she studied literature at Hainan University in the Southern Province of Hainan and upon graduation she began working with cultural and sporting events in the province and helping new athletes get started. Desiring to stay in diving in some way, she became a diving referee. In 1995, she applied for the title of National Diving Referee and in one year's time, she was promoted from First Class Chinese Diving Referee to International Diving Referee. In 1997, she was a referee in Mexico at the CAN-AM-MEX Meet.
Diving remains an important part of Xu's life as she continues to help in the development and activities of international diving.