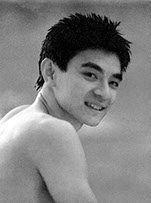 Xiong Ni (CHN)
Honor Diver (2006)
The information on this page was written the year of their induction.
FOR THE RECORD: 1988 OLYMPIC GAMES: silver (10m platform); 1992 OLYMPIC GAMES: bronze (10m platform); 1996 OLYMPIC GAMES: gold (3m springboard); 2000 OLYMPIC GAMES: gold (3m springboard, 3m springboard synchro); 1991 WORLD CHAMPIONSHIPS: silver (10m platform).
Only the great Greg Louganis had won back–to–back gold medals in men's Olympic 3m springboard competition – until Xiong Ni appeared on the international diving scene. In 1996 and 2000, Xiong did what Louganis did in 1984 and 1988 – 3m Springboard Olympic Champion, both times.
2000 was Ni's fourth Olympic competition. In 1988, as the youngster competing against veteran Louganis in the 10m platform, Xiong won the silver medal by only 1.14 points behind Greg. He vowed to return in 1992, but won the bronze medal in the same event. In 1996, he won the gold medal on the springboard and returned four years later to win it again. He and his synchronized diving partner Xiao Hailiang also won the gold medal in the 3m Springboard Synchronized Diving. He and Klaus Dibiasi are the only two men to win diving medals in four Olympic Games.
Xiong began diving training coached by Mr. Ma Yannian in Hunan Spare – Time Sports School in 1982 and joined the Hunan provincial diving team in 1983. He first caught the attention of Xu Yiming, the Head Coach of the China National Diving Team and intensified training began.Within his 15 year career, Xiong won five Olympic, one World Championship and two Asian Games medals as well as 16 Chinese National Championships.