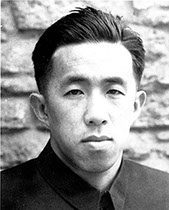 Wu Chuanyu (CHN)
Honor Pioneer Swimmer (2017)
The information on this page was written the year of their induction.
FOR THE RECORD: FIRST CHINESE ATHLETE AND SWIMMER TO REPRESENT THE PEOPLES REPUBLIC OF CHINA IN THE OLYMPIC GAMES, IN 1952; FIRST CHINESE ATHLETE TO WIN A GOLD MEDAL AT A MAJOR INTERNATIONAL COMPETITION IN ANY SPORT (100M BACKSTROKE AT THE 4TH WORLD FESTIVAL OF YOUTH AND STUDENTS IN BUCHAREST); GAVE PRIVATE SWIMMING LESSONS TO CHAIRMAN MAO; NATIONAL HERO.
The son of second-generation Chinese immigrants, from Fujian Province in southern China, Wu Chuanyu was born in Central Java, the Dutch East Indies, in 1928. Swimming came naturally to him and his friends, as the weather was hot, and there were wide rivers and a large pool near his home. Like many young boys his age around the world, he was inspired to become a champion swimmer by watching Tarzan movies, starring the American swimming sensation, Johnny Weissmuller.
Competitive swimming was a popular sport among "Overseas Chinese" in Java and being ethnically Chinese, Wu was invited to participate in the Chinese National Games of 1948. In Shanghai, he broke all Chinese records and represented the Nationalist Chinese government at the 1948 London Olympics.
In 1951, after Indonesia had won its independence, Wu led a team of ethnically Chinese Indonesian swimmers to compete at the Third World Festival of Youth and Students for Peace in Berlin, Germany.
After an arduous 40 day journey, the Indonesians were hailed as heroes when they arrived and Wu, charismatic and talented, became such a favorite after winning bronze and silver medals in backstroke and breaststroke events, that a note thanking the public for their support was published in the Berlin papers. To shorten their travel time back to Indonesia, the team traveled through Beijing, where they were so warmly welcomed and excited by what they saw in the new China, that coach Guo Deguang, Wu Chuanyu, and teammates Chen Gongcheng and Huang Hongjiu all decided to stay and help develop swimming in China, although none spoke a word of Chinese.
Cold war politics kept the International Olympic Committee from recognizing the new China until the day before the opening ceremonies of the 1952 Olympic Games. In Helsinki, Wu became the first athlete to represent the People's Republic of China in Olympic competition when he competed in the 100m freestyle.
Training with the Chinese national team in Budapest, under Russian and Hungarian Coaches, Wu's times improved greatly, and in August of 1953, at the Fourth Festival of Youth and Students in Bucharest, Romania, Wu won the 100 meter backstroke. Ignored by the western press, this festival, for socialist and communist youth, was no insignificant event. In fact, with 30,000 participants from 102 nations competing in sport and cultural events, it dwarfed the 1952 Olympic Games that had only 5,000 participants from 70 nations. Wu's victory over Soviet and Hungarian swimmers, in a near world-record time, was so unexpected that the organizers did not have the flag or anthem of the People's Republic on hand, delaying the award ceremony for over an hour until they found them.
In October of 1954, Wu left the national team training in Budapest to represent Fujian Province at the First National People's Congress, in Beijing. Tragically, a few days after the Congress ended, the plane returning him to training in Hungary crashed, killing all on board. News of his death not only stunned his teammates, who loved him, but sent the entire nation into mourning. For many years, Chairman Mao, whose favorite sport was swimming, extolled Wu's virtues and exhorted youth to work hard and become champions like Wu Chuanyu. Today Wu is still revered as a hero. He is remembered as the father of modern Chinese swimming, the first athlete to have the 5-star red flag raised and the anthem of the People's Republic of China played at a major international sporting event.