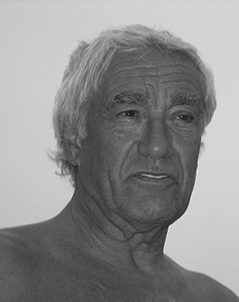 Wolf-Rüdiger Schulz (GER)
Honor Masters Water Polo (2018)
The information on this page was written the year of their induction.
INTERNATIONAL HIGHLIGHTS: 1968 OLYMPIC GAMES: Participant; FINA World Masters Championships: 4 gold (2000, 2010, 2012, 2014); European Masters Championships: 4 gold (2007, 2009, 2011, 2018), German Championships: 7 gold (2006, 2007, 2008, 2009, 2010, 2011, 2012).
Wol-Rüdiger Schulz was a swimmer in his early years, but focused his skills on water polo, and he became one of the best young water polo players in West Germany. Schulz was team captain of the Spandau 04 Junior Water Polo Team and led them to win the 1957 North-German Championships.
In the 1960's, Schulz was still one of the best water polo players in all of Germany, winning multiple national titles, but his international success was halted, when in 1962, West Germany boycotted the European Championships that were to be held in Leipzig, as a result of the Berlin Wall.
Schulz's international dreams were again squashed in 1964 when West Germany failed to qualify for the Tokyo Olympics, losing to East Germany in the qualifying rounds.
His successful career culminated with an appearance at the 1968 Mexico City Games with his West German team. They finished a disappointing ninth place, but Schulz was named to the Olympic Dream Team, being recognized as one of the 14 best players of the tournament.
Schulz retired from water polo after the 1968 Olympics but stayed close to the sport as a trainer for various clubs in Germany.
More than 30 years after his last match, Schulz was playing water polo again, alongside many of his old teammates, and together they won the gold medal for the 60 & over division at the 2000 FINA Masters World Championships.
From 2001-2005, Schulz competed for Dusseldorf, and since retiring from the working world in 2005, he has been a member of SV Cannsatt and is coached by the legendary Alfred Balens, whom he helped recruit to the team. Since 2000, Schulz has won four gold medals at the FINA Masters World Championships, and four gold medals at the European Masters World Championships.