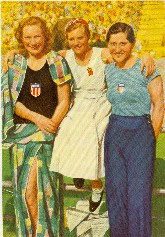 Willy Den Ouden (HOL/NED)
Honor Swimmer (1970)
The information on this page was written the year of their induction.
FOR THE RECORD: OLYMPIC GAMES: 1932 silver (100m freestyle); 1936 gold (4x100m freestyle relay); WORLD RECORDS: 100yd, 200yd, 200m, 220yd, 300yd, 300m, 400yd, 400m 500m freestyle; First woman to break a minute for 100yd freestyle; Held record for 20 years.
Swim buffs may argue who between Freddy Lane and "Splash" Cavill was first to swim 100 yards below a minute, but no one will argue the first woman to perform such a feat. She is Willy den Ouden of Holland who swam 59.8 on February 4, 1934. It had been two years since Helene Madison swam 60 flat and it was five years more before Ragnild Hveger became the second woman under the magic barrier. It was 1948 before the first American champion broke a minute (Marie Corridon, 59.9) although Halina Tomska had done so in practice as early as 1940.
Willy den Ouden's 100 meter freestyle record was set in 1934 and broken by herself four times, winding up 1:04.6 in 1936. Twenty years later, Dawn Fraser finally took off 1/10, reducing the record to 1:04.5. Fraser has owned the record since, finally reducing it below a minute to a fabulous :59.5. It took the first girl to break a minute for 100 meters (110 yards) to break the time barrier of the first girl to break a minute for 100 yards. In modern times with records broken every day, the longevity of these record times attests to the greatness of both den Ouden and Fraser.
Willy den Ouden also held the world records for 200 yards, 200 meters, 220 yards, 300 yards, 300 meters, 400 yards, 400 meters and 500 meters. Only Madison and Hveger have held more women's freestyle swimming records. Ironically, Miss den Ouden, the darling of European swimming, did all her great performances between Olympic Games. She placed second to Madison in the 1932 Olympic 100 meter and was past her prime by the 1936 Games where she gold medaled with the winning Dutch relay but not in individual meets.