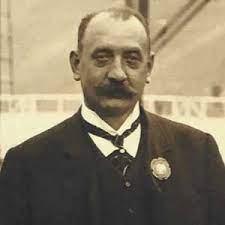 William Henry (GBR)
Honor Contributor (1974)
The information on this page was written the year of their induction.
FOR THE RECORD: OLYMPIC GAMES: 1900 (6th: 200m obstacle race); 1906 bronze (4x250m freestyle relay); WORLD LIFE SAVING CHAMPIONSHIPS: 1900 (1st); AMATEUR SWIMMING ASSOCIATION salt water amateur championship: 1889 (1st: quarter-mile), 1890 (1st: long distance); 1896 (Champion of Europe – 100m); BRITISH National Titles: 1896, 1899, 1901; Water-Polo international for England against Scotland: 1890, 1892; Co-founder of the Royal Life Saving Society.
Joseph Nawrocki, like his fellow Pole Joseph Korzeniowski, was to become a famous Englishman. Korzeniowski as sea novelist Joseph Conrad, and Nawrocki as William Henry, famous swimmer and co-founder of the Royal Life Saving Society. As the first co-honorary secretary, "with Archibald Sinclair," of the Royal Life Saving Society, William Henry worked hard and long to encourage the teaching of live saving and resuscitation. He was also co-author, with Sinclair, of the Badminton Library Book of Swimming, published first in June 1893 and revised in December 1894 which gives, to those lucky enough to have a copy now, an encyclopedic and fascinating picture of the sport in the last century.
This remarkable, dapper gentleman, with his neat military moustache, was a practicing as well as a theoretical swimming enthusiast. He won the A.S.A. quarter-mile salt water amateur championship in 1889, the long distance in 1890 and was 100m champion of Europe in 1896 at age 37. A water-polo international, he played for England against Scotland in 1890 and 1892, captaining the team on the latter occasion. He was also one of Britain's finest scientific swimmers, winning the national title in 1896, 1899, and 1901.
In 1900, Henry, a member of the Amateur and Zephyr clubs, was on the British team for the 1900 Olympic Games in Paris where he came in sixth in the 200m obstacle race at the age of 41 and won the World Championship Life Saving competition.