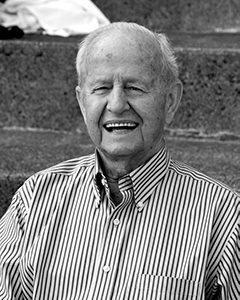 Willard "Wink" Lamb (USA)
Honor Masters Swimmer (2019)
The information on this page was written the year of their induction.
INTERNATIONAL HIGHLIGHTS: 95 FINA MASTERS WORLD RECORDS; WORLD POINTS-2263; 4 AGE GROUPS (80-84 THROUGH 95-99); TOP TEN: 12 TIMES; 26 LONG COURSE AND 32 SHORT COURSE FINA MASTERS WORLD RECORDS IN FREESTYLE, BACKSTROKE, AND I.M.
Not many individuals can take a 50-year break from swimming, come back to the sport and break nearly 100 world records. Meet Willard "Wink" Lamb.
Willard learned to swim in Lake Sacajawea in Washington State in 1935. He joined the swim team in high school and set the 220yd freestyle record.
He attended the University of Washington on a swimming scholarship, but for only a year. After the bombing of Pearl Harbor, he became a paratrooper and was sent to the Pacific theater. He came home in 1946 and worked as a carpenter until he retired at the age of 80 years old.
With retirement upon him, Lamb decided he needed some exercise and the pool seemed like his best bet. He connected with old friend and mentor, from his high school days, Wally Holden, who introduced him to Masters Swimming.
Willard travels around the country to different meets with his son, coach and team on a regular basis, breaking national and international records. Since he turned 95 and entered the 95-99 age-group, his number of world records have sky-rocketed. "I still think I can break some more records," he says, noting that the records he breaks these days are usually his own.
Wink doesn't know who came up with the idea that "swimming is for life", but he believes in it. "I have to have some exercise and I've been pretty fortunate with my health," he says. "Masters swimming gives you something to do – an interest – and it's really a fun thing to be associated with all the men and women in different age-groups. It's been a fun experience for me, and I think it keeps you away from the doctor."
Wink Lamb holds almost 100 world records and more than 150 national records, he has never stopped swimming, and if he stays healthy, he says he has no plans to do so. He will even keep swimming the 1500m freestyle.