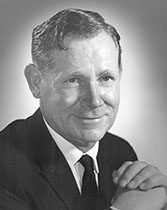 Walter Poenisch (USA)
Honor Open Water Swimmer (2017)
The information on this page was written the year of their induction.
FOR THE RECORD: FIRST TO SWIM FROM HAVANA, CUBA TO THE FLORIDA KEYS; 1976: WORLD RECORD OF 90.75 MILES IN THE FLORIDA STRAITS
He was a baker, rodeo competitor and strongman who entered his first competitive swimming race in 1963, to show that a 50 year old man could be as active as young fellows. It was a 60-mile professional marathon swim in frigid Lake Michigan. While Walter Poenish failed to finish, he was hooked on the sport and left the water determined to swim an even greater distance for an even greater cause.
Like many Americans in the 1960s, Walter was troubled by the cold war and the Cuban missile crisis that had brought the world to the brink of nuclear catastrophe. So in August of 1963, he conceived the idea of his "Swim for Peace." He started writing letters and sending cablegrams to Fidel Castro, senators, congressmen and the White House in a quest to pursue his newfound dream of bringing two obstinate foes together by swimming across the Florida Straits – from Cuba to Florida.
With optimism and confidence in his cause, Walter immediately began serious training. Over the next decade, he built up an impressive resume of feats and stunts that attracted the attention of the national media. Billing himself as the world's strongest swimmer, he towed rowboats and boats full of people and set endurance records in midwestern lakes. In winter, Walter and his wife Faye set up training camps in Fort Lauderdale, where they were frequent guests at the Hall of Fame. In 1972, without the required permissions, Walter announced the "Swim of the Century", a swim from just outside Cuban territory to Fort Lauderdale in a homemade shark cage. The swim ended after 90 miles when the shark tank fell apart amidst menacing sharks. He kept on training, writing letters, making calls and working with the Cuban Interest Section in Washington, D.C.
In 1976, Walter swam into the Guinness Book of World Records with a swim of 122 1/2 miles from Key West to the tip of the Florida peninsula. At the time, it was the world's longest ocean swim and shortly thereafter he finally received permission from the Cuban government to apply for a visa, which was finally granted in March of 1978.
The swim was planned to begin on July 11th, 1978, a date coinciding with Walter's 65th birthday. Walter and Faye arrived in Havana three days early to much fanfare and were welcomed as heroes. On the day of the swim, Cuban leader Fidel Castro was there to celebrate Walter's birthday and to wish him success on his "Swim for Peace." They conversed for several hours and before Walter entered the water, Castro proposed a toast honoring his efforts and his dream of peace between their two nations.
Thirty-four hours after leaving Cuba, Walter completed his dream, culminating on the shores of Little Duck Key, Florida. According to legendary sports reporter and author David Heeren, who covered Walter's swim for the Fort Lauderdale News, Walter's accomplishment was even greater than that of Sir Edmund Hillary, the first man to climb Mount Everest. For while there have been many thousands who have climbed Everest since, that hasn't been the case with the Florida Straits.
Walter Poenisch passed away on June 6, 2000, never having received the recognition for inspiring generations of swimmers and others to pursue their dreams with persistence, perseverance and courage.