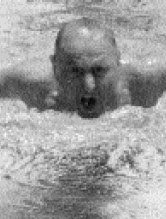 Walter Pfeiffer (USA)
Honor Masters Swimmer (2006)
The information on this page was written the year of their induction.
INTERNATIONAL HIGHLIGHTS: World Points: 473, Pre-1986 Points: 227, Total Points: 700; Since 1972, he has competed in seven age groups (55-59 thru 85-89); 31 FINA MASTERS WORLD RECORDS.
This Oklahoma boy learned to swim at four years old. He went on to letter on his high school and college teams. At Tulsa University, he was the only member of his team– the swimmer and the coach. He refers to himself as an accident of swimming history for having been around for the birth of the over arm recovery breaststroke, often kidding that everyone younger than he had to learn it at an older age.
For years, it was his appetite that kept Walter Pfeiffer in the water due to the taste of the abalone and lobsters he caught diving. He returned to competitive swimming in the early years of Masters swimming setting records in the butterfly, breaststroke and individual medley. His strategy was well suited to Masters record-setting. He swam hard every year that he aged up to a new age group, then semi-retires for four years.
He has competed in seven age groups beginning at 55 and has set 31 FINA Masters World Records.
His love for water has influenced the development of age-group and Masters swimming.