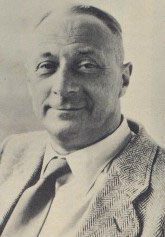 Walter Bathe (GER)
Honor Swimmer (1970)
The information on this page was written the year of their induction.
FOR THE RECORD: OLYMPIC GAMES: 1912 gold (200m, 400m breaststroke); WORLD RECORDS: 100m breaststroke; GERMAN CHAMPIONSHIPS: (6); CROWN PRINCE TROPHY: (5 times winner); River Oder 7.5km swim: (3 times winner).
Walter Bathe was a double Olympic breaststroke gold medal winner at the 1912 Olympic Games in Stockholm. He is the fourth native of Germany to be inducted into the International Swimming Hall of Fame, after R. Max Ritter, Honorary President FINA; Carol O. Bauer, Father of Age-Group Swimming; and Emil Rauch, double winner of gold medals at the 1904 Olympics in St. Louis.
Bathe was born December 1, 1892 in Probsthain, Schlesein, now part of Poland. Advised to swim for his health, he started at 8 to overcome a pigeon chest and he went on to win the Olympics at 19. During his swim career, which lasted until about 1930, Bathe won 6 German breaststroke championships, 5 times the Crownprince Trophy, and 3 times the 7.5 kilometer River Oder swim. In 1910 he swam the 100 meter breaststroke in world record time with 1:18.4. He bettered this time the same year with 1:17.5 While the hundred was his best race, Bathe's Olympic success depended on his winning at the longer (200m and 400m) Olympic distances. Bathe beat out the USA's "Turk" McDermott to win these races, the only times in his career that he was able to beat the American champion.
Bathe won over 600 swim trophies in his long career but the two gold medals he received from the King of Sweden were the only awards which survived World War II because he carried them on his person.
Bathe's Olympic records (3:01.8 for 200 meters and 6:29.6 for 400 meters) lasted until the 1924 Games.