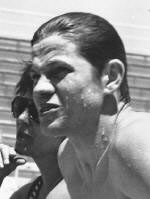 Vladimir Vasin (URS)
Honor Diver (1991)
The information on this page was written the year of their induction.
FOR THE RECORD: OLYMPIC GAMES: 1972 gold (3m springboard); EUROPEAN CHAMPIONSHIPS: 1970 bronze (3m springboard); First Soviet diver to win an Olympic gold medal.
In 1972, Vladimir Vasin became the first Soviet diver to win a medal in the Olympic Games, capturing the gold medal in the three meter springboard competition. He beat the great Italian diver Georgio Cagnotto by only 2 1/2 points at a time when the Italian duo of Cagnotto and Dibiasi were the divers to beat.
Vasin made his Olympic debut at the Tokyo Olympics in 1964, and also competed again in 1968 at the Mexico City Olympics. On the 10 meter platform in Mexico City, he injured his shoulder on the 10th dive, but went on to finish fifth. Between Mexico City and Munich, Vladimir competed internationally, which included a first place finish at the USA International meet in Fort Lauderdale.
Vladimir stayed in diving beyond his competitive days and served as a member of the Technical Diving Committee of FINA, as well as a leader for youth in many Soviet organizations, where he is considered a hero.