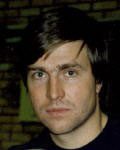 Vladimir Salnikov (URS)
Honor Swimmer (1993)
The information on this page was written the year of their induction.
FOR THE RECORD: 12 WORLD RECORDS: 400m freestyle (5), 800m freestyle (4), 1500m freestyle (3); OLYMPIC GAMES: 1976 (participant), 1980 gold (400m freestyle, 1500m freestyle, 800m freestyle relay), 1984 (boycott), 1988 gold (1500m freestyle); WORLD CHAMPIONSHIPS: 1978 gold (400m freestyle, 1500m freestyle), 1982 gold (400m freestyle, 1500m freestyle); EUROPEAN CHAMPIONSHIPS: 1977 gold (1500m freestyle), 1981 gold (1500m freestyle), silver (400m freestyle), 1983 gold (1500m freestyle, 400m freestyle).
Regarded as one of the greatest distance freestylers of all time, Vladimir Salnikov joins the ranks of the Hall of Famers Arne Borg of Sweden, Murray Rose of Australia, and Mike Burton of the United States. A 12-time world record holder and 1980 and 1988 Olympic gold medalist, Salnikov was the first man to swim under the 15-minute mark for the 1500-meter freestyle.
Salnikov first emerged into the world swimming scene at the 1976 Olympic Games in Montreal. At age 15, Salnikov became the first Soviet swimmer to make the Olympic finals in the 1500-meter freestyle with a fifth place finish. It is interesting to note that distance times dropped rapidly during the 1970s. Salnikov's time of 15:29.45 would have given him the gold medal four years earlier in Munich.
The first of Salnikov's many triumphs and world records came at the 1978 World Championships in Berlin. Salnikov won the 400 and 1500-meter freestyle and established a new world mark for 400-meters. One year later Salnikov, known as a "monster in the waves," became the first man to swim under eight minutes for 800 meters freestyle, establishing another world record of 7:56.49.
At the 1980 Olympic Games in Moscow, Salnikov accomplished what long-distance swimmers had been trying to do for years–he swam under 15 minutes (14:58.27) for 1500 meters freestyle. Not only did he establish another milestone in world swimming history, but Salnikov's victory was all the more sweet since he set the world mark in front of a roaring home crowd by shaving four seconds off of Brian Goodell's record of 1976. Salnikov also won gold medals for his performances in the 800-meter freestyle relay and the 500-meter freestyle.
Salnikov went on to swim under the 15-minute mark three more times during his career. His fastest record, 14:54.76, which he set in 1983, lasted nearly a decade. It wasn't until 1991 that Salnikov's record fell to Jorg Hoffman of Germany, who swam 14:50.36 at the World Championships in Perth, Australia.
The son of a sea captain in Leningrad, Salnikov began swimming at age eight, and like many youngsters, had an unfortunate predisposition to colds and ear infections. As a teenager, his perseverance was noticed by Coach Igor Koshkin, who is credited with developing Salnikov to his world-class stature. Salnikov's training also included short period at Mission Viejo with coach Mark Shubert and Hall of Famers Brian Goodell and Tim Shaw.
In 1984, Salnikov's wife Marina took over as his coach. Marina is a former Soviet national track and field record holder in the 100-meters and a sports training psychologist. It is with his wife Marina that Salnikov trained for the 1988 Olympic Games and another change at Olympic victory.
At age 28, when most people consider a swimmer "over the hill", Salnikov came back from a 10-second deficit to defeat West German's Stefan Pfeiffer and East German's Uwe Dassler to win the 1500-meter freestyle. His time of 15:00.40 was the fifth fastest in history (Salnikov owned the top four at this time as well). For his remarkable performance, Salnikov received a standing ovation from his peers that night in the Olympic Village. No other athlete in Seoul received such a spontaneous outburst of congratulations.