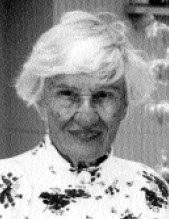 Vi Cady Krahn (USA)
Honor Masters Diver (2004)
The information on this page was written the year of their induction.
INTERNATIONAL HIGHLIGHTS: 17 MASTERS WORLD DIVING TITLES: 11 (1m springboard), 6 (3m springboard);
Just because she was still diving at age 100 is not enough to honor Viola Hartmann Cady Krahn into IMSHOF. She has earned it as a competitor, a diver with all the technique and moves and a contributor to the Masters Diving program.
Born December 29, 1901 in St. Louis, the Hartmann family moved to Phoenix in 1904, before Arizona became a state, to alleviate her father's tuberculosis condition. She rode a horse to school, took piano and dancing lessons and was happy when her home finally got indoor plumbing. She was a model little girl but the ultimate tom boy at heart.
Because of the severe Arizona summer heart, her mother would pack the bags and she and Vi would travel to Long Beach, CA for the summer months while Dad would tend to his barber shop. They took the California trip for many years and Vi always enjoyed swimming in the ocean. On one occasion, she swam out to the USS Vermont, surprising the sailors on board. That was 1919 and she was 18 years old.
After obtaining a degree in "physical culture" at Indiana University, she decided to pursue her swimming in Southern California. Arriving in 1922, she checked in with Coach Fred Cady at the Los Angeles Athletic Club. She also met Olympian Clarence Pinkston who advised her to dive as well as swim. Fred did all the coaching and impressed Vi so much, she married him with deep love and devotion.
Competing was good for Vi. She won the Junior National High Board Championship, the Junior National 200 Freestyle Championship, and the Junior National Water Polo Championships, the only woman to accomplish this. She even rode the surfboard on the shoulders of surfing legend Duke Kahanamoku on Laguna Beach. She competed on the Los Angeles Athletic Club's relay team that swam the Catalina Channel for William Wrigley as a "test run" before his big $25,000 prize race in 1927.Husband Fred started the race. Fredwas on hisway becoming the "Dean ofAmerican Diving Coaches," developing numerous Olympicmedal winners and serving as head coach of the 1928 to 1948 U.S. Olympic Diving Teams. Vi also competed with Hall of Famer Tom Blake to win many open water ocean races.
All her life, Vi was around the world's greatest divers but it was 54 years after her initial diving career that she would dive again, this time as a Masters diver. At age 77 in 1978, she took the advice of contemporary diver Johnny Riley and enrolled in the newly formed Masters Diving program. She and fellow Hall of Famer Patty Fulton entered their first meet together and Vi has been diving ever since.
She competed in every age group from75-79 to 95-99. She is still diving after age 100. She has competed in meets throughout the United States as well as in Aarhus, Denmark; Edmonton, Canada; Brisbane, Australia; and Sheffield, England. She dives equally well on one- and three-meter springboard. She has over 17 Masters world titles to her name and many times outscored divers younger than she. At age 100, she appeared on NBC's nighttime television's Jay Leno Show, conversing on stage and doing a dive into a pool.
Vi is a determined competitor, but always helps others. Her great pleasure is encouraging young divers. Sometimes she would stop her own diving practice to help them. That has been her way of life – to compete hard and help others. Vi has outlived two husbands – Fred Cady and Fred Krahn, but she will never outlive her dreams of diving success.