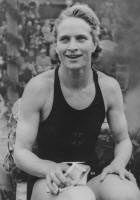 Ursula Happe (GER)
Honor Swimmer (1997)
The information on this page was written the year of their induction.
FOR THE RECORD: 1956 OLYMPIC GAMES: gold (200m breaststroke); 1954 EUROPEAN CHAMPIONSHIPS: gold (200m breaststroke), bronze (100m butterfly); GERMAN NATIONAL CHAMPIONSHIPS (18): (100m, 200m breaststroke, 100m butterfly, 4x100m breaststroke relay).
In the decade of the 1950s, Germany had one female standout in international swimming. She was not only a great swimmer, but she was also a homemaker and mother of two children.
During World Way II, she served in the Female Labour Service and in the War Auxiliary Service. At the end of the war, her family was driven away from their home in Gdansk and were urged to flee to the western part of Germany, where her mother and two little sisters settled in Schleswig-Holstein and Bremen. Despite all of these hardships, Ursula Happe became Germany's first post war athletic hero.
Born in 1926, in Gdansk, Ursula, Ursel to her friends, started swimming at the age of four and as she grew older began to participate in several age group competitions with varied success. She graduated from school in 1943, having swam for the "Neptun Danzig" Club. In 1949, following her country war duty, she joined the "Neptun Kiel" Club where she won her first of 18 German national Championships in breaststroke and butterfly.
The next year, 1950, she married her swim coach, Heinz Gunter Happe and moved to Dortmund and the swimming club "Schwimmverein Westfalen 1996," where she again won national titles in the 100m and 200m breaststroke.
In 1952, Ursula qualified to compete at the Helsinki Olympics but was defeated in the semi-final round. That's when she decided to start her family, and, the next year she had a daughter, Gudrun, her first of four children. Back in to swimming by 1954, she won the German National 200m breaststroke title and the 100m butterfly title. Butterfly had just been recognized by FINA as a separate stroke. At the 1954 European Championships in Taurin, Happe won the 200m breaststroke, the first German to win that event since 1927, when Pioneer Hall of Famer Hilde Schrader won the event. Ursula also won the bronze medal in the 100m butterfly, the first time this new stroke was initiated into the international scene as a fourth stroke. Four of the five individual titles for women at these championships were won by married women. Ursula was so dynamic in her stroke that in the 1954, Swimming Times, Bill Juba wrote, "She is a faultless breaststroker with particularly good turns and a following glide." Later in the year, in an international swimming tournament in Hamburg, Germany, she was first again in the 200m breaststroke.
In 1955, after setting a new West German 100m butterfly record, she retired again to have her second child, a son, Klaus. But again she rebounded, and in 1956, the Olympic year, she set a new German 200m breaststroke record of 2:51.0. Her time was the world's third all-time best time, just behind her Olympic champion friend from 1952, Hall of Famer Eva Szekely of Hungary. The 1956 Olympic Games of Melbourne were fast approaching.
Once in Melbourne, Ursula finished first in the heats and first in the finals winning the coveted gold medal by beating the 1952 champion and arch swimming rival Szekely. Ursula had capped her career by becoming the Olympic champion.
Because of her swimming success, Happe was elected as the German Sportswoman of the Year for both 1954 and 1956 and was awarded the Silver Laurel Leaf, the highest award for peak performance in the German sports organizations, presented to European and Olympic champions. In 1996, she was honored with the "Verdienstorden des Landes Nordrhein-Westfalen," the highest decoration presented for acknowledgement of a service to country and to fellow citizens in the German Federal State. Part of the inscription reads "with her personality and her typical honourable insertion, she gives many young people joy to sport and sporting attainments."
Today Ursula Happe-Krey swims every day. A mother of four and grandmother of more, she works in the schools and her home club of "Wellinghofen 1905" coaching and teaching swimming.