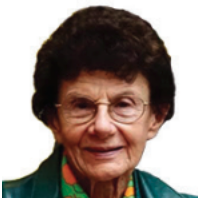 Ursula Carlile (AUS)
Honor Coach (2022)
The information on this page was written the year of their induction.
FOR THE RECORD: OVER 50 YEARS OF COACHING EXPERIENCE; FIRST INT'L HUSBAND & WIFE COACHING TEAM; COACHING WITH SCIENTIFIC APPROACH CENTERED AROUND ASSISTING FORBES & COACHING YOUNGER, DEVELOPMENTAL SWIMMERS; 1962-64 DUTCH OLYMPIC CO-HEAD COACH; 1980 HONORARY OLYMPIC COACHES FOR CHINA; 1972 OLYMPIC GAMES: AUSTRALIA'S FIRST FEMALE OLYMPIC SWIMMING COACH (ASSISTANT TO DON TALBOT); 1973 WORLD CHAMPIONSHIPS: ASST TO TERRY GATHERCOLE; 1974 COMMONWEALTH GAMES: AUSTRALIA'S FIRST FEMALE HEAD COACH; 1970'S – '80'S: THE CARLILES COACHED FIVE OLYMPIANS – ALL WORLD RECORD-HOLDERS: MORAS, GOULD, TURRALL, NEAL AND BENNETT
They say that behind every great man, there's a woman, but in this case, Ursula Carlile was never behind her husband, Forbes, she was always right there beside him.
It is hard to believe that one of Australia's greatest swim coaches did not even learn to swim until she was finishing up  her degree at Adelaide University, which was a requirement needed to graduate and for her upcoming teaching job. 
Little did Ursula know that learning how to swim would change the course of her life. It was at Drummoyne Pool that Ursula first met Forbes Carlile. When she met Forbes, he was busily developing the first sports science laboratory with Professor Frank Cotton. Forbes and Ursula quickly connected, and she became immediately involved in their emerging research.
The couple married in the Spring of 1958 and so began one of the greatest partnerships in swimming history. The pair revolutionized the sport of swimming in many ways. They conducted scientific research on their swimmers. They used pioneering techniques including circle swimming, pace clocks, training logbooks, lane ropes, goggles, interval training and even heart monitoring.
Competitive swimming was a passion for Ursula and Forbes, and they excelled at coaching notable swimmers. They began their coaching career on Sydney Northern Beaches at Palm Beach, moved on to Drummoyne and finally the Ryde Aquatic Centre. Some of the Olympians that moved through the Carlile's program were Shane Gould, Karen Moras, Gail Neall, Jan Murphy, John Davies, Terry Gathercole, John Ryan and Ian O'Brien.
Ursula became Australia's first female Olympic coach at the Munich Games in 1972, when she coached alongside Don Talbot. It was at these games that 15-year old Shane Gould brought home five medals, three of them gold, with accompanying world records in the freestyle events. The records unbelievably ranged from the 100 meter to the 1500, and she held them all at the same time.
Ursula was named head coach in 1974 for the Commonwealth Games, and in 1975, she was named coach for the Australian World Championship team that traveled to Cali, Columbia.
Although competitive swimming was certainly a passion of Ursula's, both she and Forbes were also pioneers in Australia's learn to swim industry, developing their own new techniques and ideas along the way. One of the keys to their success was the ability to run a successful elite-level swimming program for athletes, while at the same time, running a learn-to-swim program for children.
Ursula was the first female to be honored with a Life Membership from the Australian Swimming Coaches and Teachers Association, while also being presented with a Life Membership of Swimming Australia in 2011.