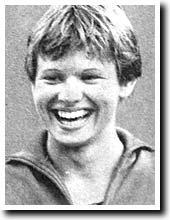 Ulrike Richter (GDR)
Honor Swimmer (1983)
The information on this page was written the year of their induction.
FOR THE RECORD: OLYMPIC GAMES: 1976 gold (100m, 200m backstroke; relay); WORLD RECORDS: 14 (1973-1976: 100m, 200m backstroke; relays); WORLD CHAMPIONSHIPS: 1973, 1975 gold (100m backstroke; relay); EUROPEAN CHAMPIONSHIPS: 1974 gold (100m, 200m backstroke; relay); 1977 gold (relay), silver (100m, 200m backstroke); AMERICAN RECORDS: 2 (1974: 100m, 200m backstroke).
Ulrike Richter of the German Democratic Republic set 6 World Records in one year (1974) reducing the world standard for the 100m backstroke by 1 1/2 seconds and the 200m back by 1.8 seconds. Her 100m time comedown in four successive swims is reminiscent of the days of Johnny Weissmuller when he was advertised to break a record every time he swam. Richter beat the USA's Olympic triple winner Melissa Belote to start off the medley relay at the first World Championships in Belgrade. It was all downhill after that for the American girls who lost the medley relay by 9 seconds. It was the first big meet any team (GDR) had worn the lycra skin-suits and everyone was out-psyched and out-swum. In 1974, Richter made equally short work of beating her illustrious World Record holding teammate and namesake, Ulrike Tauber, and this time they both wore skinsuits in the European Championships. She set 9 World Records in the 100m back alone during the three-year period from 1973-76. Richter had not been in the World's top 50 in 1972, the year of the Munich Olympics, and yet she came on to be absolute Queen of the Backstroke for the next four years, retiring to become a cosmetician after the 1977 European Championships.
Doping Disclaimer: In a German court of law, after this swimmer was inducted into the International Swimming Hall of Fame, team officials confessed to administering performance enhancing drugs to this swimmer, who therefore obtained an illegal and unfair advantage over other athletes. For more information, click here.