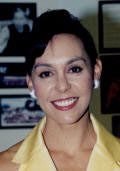 Tracie Ruiz (USA)
Honor Synchronized / Artistic Swimmer (1993)
The information on this page was written the year of their induction.
FOR THE RECORD: OLYMPIC GAMES: 1984 gold (solo, duet with Candy Costie), 1988 silver (solo); PAN AMERICAN GAMES: 1979 gold (team), 1983 gold (solo, duet), 1987 gold (solo, duet); WORLD CHAMPIONSHIPS: 1982 gold (solo, figures); U.S. NATIONAL CHAMPIONSHIPS: 6 (1981-1986).
In 1984, Tracie Ruiz became the first Olympic champion in the history of synchronized swimming when she won both the solo and duet competition with teammate Candie Costie at her sports Olympic debut in Los Angeles. During her 16-year career from 1973-1988, she captured 41 gold medals, including the 1982 World Championship solo and figures titles, and won at the 1983 and 1987 Pan American Games.
Tracie's dynamic style and athleticism helped to raise synchronized swimming to new levels of popularity and recognition. Few sports require such a diverse assortment of qualities for success as synchronized swimming. Tracie's elegance, grace, and strength were the perfect combination needed to propel her captivating sport.
Tracie retired following gold medal performances in Los Angeles, during which time she married weight trainer Mike Conforto. After two years, however, she returned to competition to capture gold medals at the 1987 U.S. National Championships and the 1987 Pan American Games in Indianapolis.
By 1988, Tracie's quest was to defend her Olympic crown of 1984. In a near-perfect performance at the 1988 U.S. Olympic Trials, Tracie received all 10s and five 9.9s for technical merit, a score which ranks as the second best of all time in the sport behind Hall of Famer Heidi O'Rourke's performance at the 1971 Pan American Games. Several months later, against her long-time competition Carolyn Waldo of Canada, Tracie was awarded a silver medal in the solo competition for her routine at the Olympic Games in Seoul.
Tracie's picture-perfect form and dazzling costumes in command performances were the catalysts which launched her sport into the Olympic Games and into the hearts of swimmers around the world.