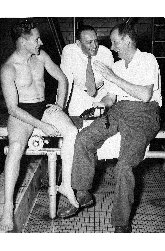 Tom Robinson (USA)
Honor Coach (1975)
The information on this page was written the year of their induction.
FOR THE RECORD: Swimming coach at Northwestern University for 35 years; Placed 11 swimmers on Olympic teams; BIG-TEN CHAMPIONSHIPS: 10; NCAA CHAMPIONSHIPS: 6; Organized first women's Red Cross Lifesaving Corps in 1920; Shortly after his appointment at Northwestern in 1909, he introduced the requirement that every student must learn to swim before graduation.
The first great U.S. Collegiate Coach, based on the national team championships he won and the national champions he developed, was Northwestern University's Tom Robinson.
Tom Robinson was Northwestern's first swimming coach. He assumed the Wildcat head swimming duties in 1909. During the 35 years Robinson was coach, Northwestern compiled a brilliant record of 10 Big Ten Championships and 6 NCAA Championships.
Robinson, whose list of championship teams and swimmers is unequaled in the history of Northwestern, in any sport, won the first of five consecutive Big Ten titles in 1914. Following World War I, the Wildcats won five more conference crowns in 1920, '23, '24, '25 and '30.
Northwestern won its first NCAA Championship in 1924, the year the NCAA Championships began, and followed with national titles in 1925, '28, '30, and '33. Under Robinson's leadership, the Wildcats also won seven water polo titles and three water basketball championships.
The list of swimmers who attained stardom under Robinson is lengthy and includes some of the greatest names in the history of the sport. The first Northwestern swimmer to win a place on a United States Olympic team was Ken Huszagh in 1912.
Four Northwestern swimmers were members of the 1924 Olympic team including Dick Howell, Ralph Breyer, Bob Skelton, and Sybil Bauer (Skelton and Bauer won gold medals). Other Olympic swimmers produced by Robinson were Harry Daniels and Wally Colbath, 1928; Al Schwartz, 1932; and Art Highland, Volney Wilson, and Dan Zehr, 1936. Certainly Robinson's swimmers also would have been Olympians in 1916 and in 1940 and 1944 had the World Wars not cancelled these games.
Robinson made numerous contributions to the techniques of swimming. He was a pioneer in the development of the crawl stroke in the early 1900s, and in 1907, he invented the game of water basketball which was played in the Big Ten until it was replaced by water polo in 1925. He organized the first women's Red Cross Lifesaving Corps in 1920. During World War I, he also served as varsity basketball coach at Northwestern.
While at Northwestern, Robinson taught thousands of Evanstonians to swim at his annual summer swimming classes. He began his community swimming classes while at the Evanston Y.M.C.A. and it was estimated at his retirement in 1944 that he had taught more than 50,000 people to swim.
Robinson preferred the title of "teacher" to "coach" and shortly after his appointment at Northwestern, Robinson introduced the requirement that every student must learn to swim before graduation.