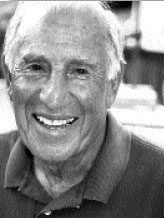 Tom Hairabedian (USA)
Honor Diver (2007)
The information on this page was written the year of their induction.
INTERNATIONAL HIGHLIGHTS: 1992, 1998, 2000 FINA Masters World Championships: 1m springboard ( 2 gold, 1 bronze), 3m springboard (1 gold, 2 silver), 10m platform (2 gold, 1 silver); 1985, 1998, 2002Masters World Games: 1m springboard (2 gold, 1 bronze) 3m springboard (2 gold, 1 silver), 10m platform (2 gold, 1 silver); Since 1974, he has competed in 7 age groups (50-54 thru 80-84); Competed in 50 USA Master National Diving Championships: 111 gold, 22 silver, 7 bronze medals
His mother survived the Armenian Genocide. His father served as a Captain in the Russian Army just prior to WWII. Both were instrumental in developing his "can do it" attitude. A world-class gymnast, he became entranced with diving while attending USC. Since then, Tom Hairabedian just can't get enough — as a participator, coach and organizer.
He competed at the collegiate level. Upon graduation, he became the head swimming and diving coach of Central Missouri State University. Anxiously, he returned to competition in the first Masters diving competition and has been at most every one since. Competing in seven different age groups, he has accumulated over 140 national titles and 16world titles.He competes equally well on the 1m or 3m springboard and 10m platform. Tom Hairabedian is proudly listed in the Who's Who of Armenian Athletes.
At one point he dove for the medals, now, he dives for the challenge and the fun. Tom Hairabedian is committed to providing a competitive outlet for athletes, passed what is normally considered their prime. He was U.S. Masters National Diving Chairman from 1980-82 and U.S. Grand Masters Champion on six occasions. He believes that Masters competition is an opportunity to stay or get in shape!