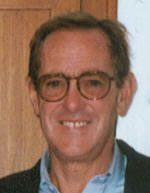 Tod Spieker (USA)
Honor Masters Swimmer (2005)
The information on this page was written the year of their induction.
INTERNATIONAL HIGHLIGHTS: World Points – 753, Pre-1986 Points – 100, Total Points – 852; Since 1977, he has competed in seven age groups (25-29 thru 55-59); 30 FINA MASTERS WORLD RECORDS;
Tod Spieker is a humble, reserved, fun-loving, compatible Masters swimmer who competes and trains in the water with the intensity of a lion, the consistency of an elephant and the methodical approach of a leopard. During his 28 year Masters swimming career, he has set 30 FINA Masters World Records, won 24 FINA Masters World Championships and won 70 U.S. Masters Swimming National Championships, accumulating 852 total Masters points with all of these achievements. He credits everyone else for his success.
Tod began swimming competitively at the age of eight as a member of the Palo Alto Swim Club in California, but it was not until four years later at the age of twelve that he won his first race. It proved that hard work and consistency pays off- the inspiration that Tod uses to excel in his swimming, business and life today.
An outstanding swimmer and water polo player at Menlo Atherton High School, Tod was a two-time High School All- American in three events during his junior and senior years. He won 40 dual meet high school races without losing. Tod's high school coach, Bob Gaughren said, "Tod was an outstanding high school swimmer who was the hardest working kid on the team. Once before a big meet, he slipped in the locker room creating a huge cut on his eye. The team doctor stitched him up and Tod went on to swim the 200 yard and 400 yard freestyles and helped us win. He won the "most courageous award that year".
Tod was a collegiate letterman at UCLA, receiving All-American honors in the backstroke his senior year. College coach Bob Horn calls Tod "dedicated and tough, and the most loyal Bruin through and through".
Tod has had the occasion to work with Hall of Fame coach Richard Quick who says, "It's inspirational for me to be around Tod because he is so driven and is willing to try new things in his swimming and training, even though he has been doing this a very long time and very successfully."
His Hall of Fame coach Nort Thornton said, "I coached Tod as an age grouper and have known him since he was nine years old. He was always figuring his splits, a number cruncher who knew where he needed to be on every lap, on all his strokes. He has never lost his enthusiasm for swimming. It is a great passion for him. He is about as much as a swimming nut as you can get. I really appreciate Tod. He is a rare individual."
They all talk about his commitment to swimming and desire to give back to the sport.
Tod's father, Warren, calls Tod, "A very disciplined person. It was his inspiration to work hard to be the best at something. He's been a success in business because of it, too."
At age 28 in 1977, Tod entered his first Masters swim meet and now has competed in seven consecutive age groups. He swims for the Olympic Club Masters but does most of his training with the Rinconada Masters. Says Rinconada coach Carol Tait McPherson, "Tod trains very hard and is all business in the pool. You don't talk to Tod in the middle of a set and you don't mess around in workouts. We are very proud of him." Olympic Club Masters coach Scott Williams commented, "It's been a real pleasure to coach him because he's taught me how to be a real coach."
Tod remembers his first Masters Nationals in 1977. It was a hazy morning at the Hall of Fame Pool in Fort Lauderdale when he swam the 200 yard backstroke and won the race, setting a National record and swimming a few seconds better than the month before. It was a success that Tod worked to achieve again and again over the years.
Since 1986, Tod has accumulated 51 first place, 30 second place and 25 third place Masters world rankings in all events except butterfly and breaststroke. He has competed in seven Masters World Championships since 1986, winning 20 gold medals.