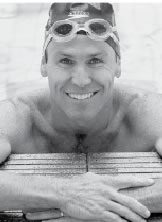 Timothy Shead (USA/ZAF)
Honor Masters Swimmer (2014)
The information on this page was written the year of their induction.
INTERNATIONAL HIGHLIGHTS (SWIMMER): World Points-679, Pre 1986 Points- 0, Total Points-679; Since 1992, he has competed in five age groups (60-44 through 60-64). 32 FINA MASTERS WORLD RECORDS: 26 individual, six relays.
He grew up in Miami, Florida and swam for the legendary George Breen at the University of Pennsylvania. Upon graduation, Tim Shead moved to California,in 1975, to pursue his dream of becoming an Olympic swimmer. Although his Olympic dream was never realized, his experience fueled his passion for coaching and nutrition. He returned to South Florida where he built a powerhouse team that included a young swimmer named David Marsh, and was selected to coach a US National Team European trip.
In 1983, he left coaching and the USA for the opportunity to develop a nutritional business in South Africa. It was there that he discovered Masters Swimming and would gain the success he had longed for as a younger athlete.
It wasn't until 1997, at 45 years of age, that Tim Shead broke his first World Record. Tim first appeared on the Masters Top Ten list in 1992 and has been listed there every year since. A versatile swimmer, Tim has set 33 FINA Masters World Records, 20 long course meters and 13 short course meters in the I.M., backstroke, breaststroke and relay events. In 2007, he ranked top ten in the world in all but three events – in 33 of 36 events – short and long course.
At the suggestion of his old swimmer, David Marsh, Tim returned to the USA and formed a new performance based nutritional company geared to meet the needs of swimmers. P2Life has also become a corporate partner of US Masters Swimming.
Tim believes his success is a combination of experience, technique, training, rest and most importantly knowing his body and what it needs – specifically giving the body proper nutrition. He swears that "nothing is more important than your health" and takes his company, P2Life's nutritional products every day – and has for 25 years. He thinks his performance proves it!