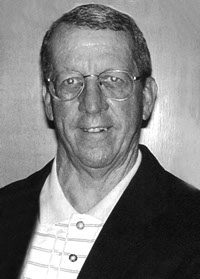 Tim Birnie (USA)
Honor Masters Swimmer (2012)
The information on this page was written the year of their induction.
INTERNATIONAL HIGHLIGHTS (SWIMMER): World Points – 646; Pre-1986 points – 1, Total Points – 647; Since 1986, he has competed in 5 age groups (40-44 through 60-64), with one age group in 1974 (25-29); 28 FINA MASTERS WORLD RECORDS.
Tim Birnie says he has spent possibly 90% of all his swimming workouts alone, from high school to Masters swimming. Not to say that he did not enjoy swimming with a club, it just seemed to work out that way.
He began his swimming career as a freshman in high school. He achieved All American recognition and continued to swim in college at SMU under coach A.R. "Red" Barr. Over the years he met, was coached by and became friends with some pretty big names in the sport. Richard Quick was an SMU teammate. He trained under Don Gambril and Peter Daland at the Los Angeles Athletic Club, was taken under the wings of Steve Clark, and his coach, Phil Moriarty, at the 1964 Olympic Trials because again, he was on his own.
After attending law school and opening his practice, Tim took up swimming again in 1973 as a way to keep in shape, mainly because he found a pool next door to his office. He officially launched his United States Masters Swimming career in Nashville, attending the National Championships at the age of 45, with Masters Swimming Hall of Famer, Bob Strand.
In 1992, Birnie joined the Olympic Club in San Francisco and became part of a relay team that consisted of Tim, Steve Clark, Bob Strand and Jim Elder. They set quite a few national and world records over the years, to say the least!
Tim Birnie has set 28 FINA Masters records in the freestyle and backstroke events – seven long course, in the 50-54 and 55-59 age groups, and 21 short course in the 40-44 through 55-59 age groups.
Tim had shoulder surgery in 2002 and since then has mostly concentrated on swimming recreationally to stay in shape. Although, that's not to say one day he'll be back to competitive swimming and set more records!