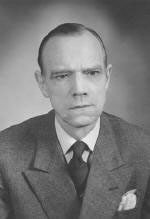 Thor Henning (SWE)
Honor Pioneer Swimmer (1992)
The information on this page was written the year of their induction.
FOR THE RECORD: OLYMPIC GAMES: 1912, silver (400m breaststroke); 1920 silver (200m breaststroke, 400m breaststroke); WORLD RECORD: 1 (400m breaststroke).
Thor Henning's international swimming career spanned a period of fourteen years, from the time he set the world record in the 400 meter breaststroke in 1911 to his final Olympic competition at the 1924 Paris Olympic Games. His most outstanding Olympic race was in 1920 when he won the silver medals in both the 200 meter and 400 meter breaststroke. Teammate Hakan Malmrot won both gold medals.
Henning had previously won the silver medal in the 400 meter breaststroke at the 1912 Olympics in his native Stockholm.
Breaststroke was the predominant stroke used by most swimmers during this era and Henning was a master of it. As with all swimmers of Thor Henning's era, he had very few opportunities for international competition, and to be among the top two in the world when countries met every four years was an outstanding achievement. He left his mark as one of the greatest swimmers to emerge from Sweden.