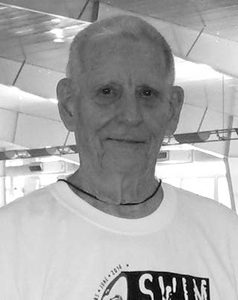 Thomas Maine (USA)
Honor Masters Swimmer (2016)
The information on this page was written the year of their induction.
INTERNATIONAL HIGHLIGHTS (SWIMMER): World Points-751, Pre 1986 Points- 0, Total Points-751; Since 1997, he has competed in 5 age groups (70-74 through 90-95). 27 FINA MASTERS WORLD RECORDS.
He learned to swim at the age of ten, at a YMCA in Des Moines, Iowa. He continued swimming through high school, where he was an All-American for two years. He also swam all four years of college at Iowa State University, where he was co-captain. In between high school and college, Maine joined the Navy, entered the Navy in-flight training program, swam and trained with the military base swim team.
Like many Masters swimmers there was a large gap where he did not swim. For Tom, that gap was 35 years, due to married life, family and a career at McDonnell Douglas in St. Louis, Missouri. The next time swimming entered Tom's life was when his new wife bought him a pass to the rec-center at Southern Illinois University. At first, Tom swam in Senior Games competitions, but in 1997, at age 71, he joined United State Masters Swimming, representing Illinois Masters.
For the last 17 years, since 1999, Thomas Maine has been listed as a USMS All-American, posting the fastest time of the year for his age-group in at least one event. Through 2015, he achieved the fastest times in 159 events. Maine's signature events are the 200 butterfly and the 400 individual medley, considered by many to be the most grueling events in swimming.
Maine has set 56 USMS records in six different age groups and he currently holds a total of 29 individual USMS records in the 80-84, 85-59 and 90-94 age groups. Internationally, Tom began setting FINA world records in 2005. He has been ranked in the Top Ten for 19 continuous years.
Tom has attended five FINA Masters World Championships and has won 15 World Masters Championship Titles. He has set 27 FINA World Records, 14 long course meter and 13 short course meters in the butterfly, breaststroke and the IM. Thomas had a big run in 2015, breaking nine world records in his new age-group, 90-94. He was named one of Swimming World's Top 12 Masters Swimmers in 2010, 2015 and 2016.