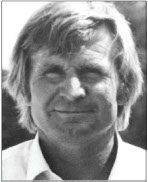 Thomas Hoad (AUS)
Honor Contributor (2011)
The information on this page was written the year of their induction.
FOR THE RECORD: 1976, 1980, 1984, 1988 OLYMPIC GAMES: Water Polo Head Coach; 1960, 1964, 1968, 1972 OLYMPIC GAMES: Water Polo Player; 1975, 1978, 1982, 1986 WORLD CHAMPIONSHIPS: Water Polo Head Coach; CHAIRMAN OF THE ORGANIZING COMMITTEE OF FIVE INTERNATIONAL COMPETITIONS.
Tom Hoad was a Western Australia State Butterfly Champion from 1950 to 1954, but his love for the water was in Water Polo. For over 60 years, he helped to keep Australia in the forefront of world water polo, first as a player, then as a coach. He played on four Olympic Water Polo teams, three as Captain: 1960 Rome, 1964 Tokyo, 1968 Mexico City, and 1972 Munich. He was elevated to coach in 1976 Mon­treal, 1980 Moscow, 1984 Los Angeles, and 1988 Seoul Olympic Games. His 1980 Olympic team beat World Champions, Italy, with a 3 to 2 score.
His unorthodox coaching tactics are legend­ary earning him the title Australia's "Mr. Water Polo". His involvement in the sport is all encompassing, attracting foreign teams to Australia for competition. He coached Australia in approximately 200 Games from 1975 to 1988. His World Championship teams placed 11th in 1973 Bel­grade, 9th in 1978 Berlin, 11th in 1982 Guayaquil and 10th in 1986 Madrid. His 1985 World Cup team was 7th.
He was chairman of the organizing committee for the 1991 and 1998 Perth World Championships, the 1995 Australian Masters Games, the 2001 Junior Women's World Water Polo Championships, and the 2002 Women's World Cup. He was Head Coach of the National League Team, Fremantle Mariners for 10 years winning three championships out of an unprecedented nine consecutive grand final appearances. He served on the FINA Technical Water Polo Committee for two terms from 1968 to 1976. In his honor, a cup is presented annually in Perth, Western Australia, exposing local players to elite levels of com­petition.