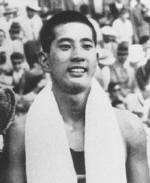 Tetsuo Hamuro (JPN)
Honor Swimmer (1990)
The information on this page was written the year of their induction.
FOR THE RECORD: OLYMPIC GAMES: 1936 gold (200m breaststroke); WORLD RECORDS: 2 (100m, 200m breaststroke); JAPANESE RECORDS: 4 (50m, 100m, 200m breaststroke; medley relay); JAPANESE NATIONAL CHAMPIONSHIPS: 10 (100m, 200m breaststroke).
Tetsuo Hamuro of Japan struck Olympic gold in 1936 at Berlin, swimming orthodox breaststroke against a field dominated by butterfly breaststrokers. The only Olympic distance then was 200 meters, but at home in Japan, Hamuro set world records in both the 100 meter and 200 meter long course. He set Japanese national records at 50 meters, 100 meters, and 200 meters breaststroke, and in the medley relay, while winning 10 National Championships between the years 1935 and 1940. Hamuro was never beaten at the 200 meter distance, retiring in 1940 for military service.
Tetsuo Hamuro's records lasted 19 years until fellow countryman Masaru Furukawa broke them in 1952, swimming the breaststroke underwater. Hamuro broke to the top of the breaststroke by beating Reizo Kojke, also of Japan, tying the old champion's world record in the Japanese College Championship. From 1935, he never lost a breaststroke race until he retired 6 years later.
Today the handsome, good humored Tetsuo Hamuro smiles with pride as his wife, a Masters World Champion, wins the medals. Tetsuo Hamuro of Japan, one of Japan's great breaststroke swimmers.