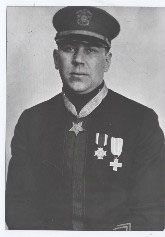 Tedford Cann (USA)
Honor Swimmer (1967)
The information on this page was written the year of their induction.
FOR THE RECORD: WORLD RECORD: 220yd freestyle; AAU NATIONAL CHAMPIONSHIPS: 50yd, 100yd, 200yd freestyle; water polo; Won first Congressional Medal of Honor, 1917.
We can't measure swimming greatness between eras, so if Teddy Cann isn't the greatest swimmer ever, only the greatest of his era, no one can prove otherwise — but the U. Navy testifies he's the bravest — the only congressional Medal of Honor won by a swimmer, for swimming. His was the first Medal of Honor awarded in World War I. Cann won his nation's highest military honor repairing the leak in a sinking ship that had been sabotaged. For more than an hour, he dove into the icy waters of the North Atlantic both inside and outside the flooded hold of the USS MAY, stuffed, as caulking, everything his buddies could find on deck. Finally Cann, near exhaustion, had patched the hole, the ship's pumps sluiced her nearly dry and the ship made it to the Azores for repair.
Asked if receiving this medal from Secretary of the Navy Josephus Daniels was his greatest thrill, Cann said: "No, I believe that would be the gold medal I got when I was 17 for beating Duke Kahanamoku in Hawaii."
Cann won many honors as a spectacular football halfback, basketball and track athlete at N.Y.U. with his still more famous brother, Howard. Their father was athletic director. Teddy Cann's Swimming Coach was another Hall of Famer, Matt Mann, at the N.Y. Athletic Club and later the D.A.C.
While Cann's pre-war performances in swimming were exceptional, his greatest year was that right after the Armistice. He was the first man in the world to break 2:20 for the 220 and he won AAU National Championships in the 50, 100 and 200 beating Olympian Perry McGillevry and Hall of Famer Norman Ross. Cann was the first man to win all three titles in a single year. He had qualified for the 1920 Olympics when a taxi accident broke his leg in 6 places, put him on crutches for more than a year, and left him with a permanent limp. Teddy missed going to the 1920 Olympics with his brother, who also broke a leg hurdling — went instead as a shotputter. Ted never swam another championship race but came back to play Olympic water polo in 1924, was still on the NYAC national champion polo team as late as the early '30s. "We've had many Olympic gold medals," said the late Bob Kiphuth, "but only one Congressional Medal of Honor. How can anyone be better qualified for the Hall of Fame?"
Tedford Cann died in January 1963 and was buried in Arlington Cemetery.