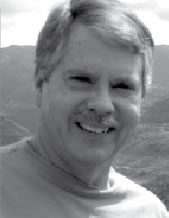 Ted Witte (USA)
Honor Masters Contributor (2014)
The information on this page was written the year of their induction.
INTERNATIONAL HIGHLIGHTS (CONTRIBUTOR): STARTED MASTERS DIVING WEB SITE; MASTERS DIVER FROM 1995 TO 1998.
He first became interested in diving at the age of 15, while he was working as a counselor at a YMCA camp near Louisville, Kentucky and a friend taught him some dives. He went on to become a Kentucky State High School Champion and was offered a four-year scholarship to Florida State University.
Like most Masters athletes, Ted Witte put his love of aquatics on the back burner to live "life." Some years later while living in San Diego, Ted learned of a Masters Diving Meet in Irvine and he decided to see what it was all about. It was then that Ted got back on the boards and was so enthused that he wanted to spread the word about Masters Diving. Ted not only wanted to promote the sport, but to inform athletes of upcoming events, meets and other news of interest to the Masters Diving community. Ted originated, designed and continues to operate the Masters Diving website, www.MastersDiving.org. It was 1995 and USA Diving did not even have a website. Ted had to learn all about computer programming, jaragon, html coding and more. It was a new world and Ted wanted Masters Diving to be part of it.
Ted's idea of a website, more than 20 years ago, was a godsend for all Masters athletes and it continues to grow and promote the sport of Masters Diving for athletes and friends from all over the world. It has been a major contribution to Masters Diving, keeping the people appraised of national and international meets, results of meets, records and the posting of messages from divers, and other general interest and links to the same. It serves as a very viable communication too!
In addition to his great contribution, Ted is also an accomplished Masters diver, winning gold medals at both the US Masters and World Masters Games competitions.