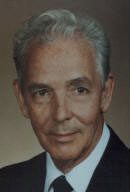 Taylor Drysdale (USA)
Honor Pioneer Swimmer (1994)
The information on this page was written the year of their induction.
FOR THE RECORD: 1936 OLYMPIC GAMES: 4th place (100m backstroke); Undefeated in international backstroke competition in Japan (1935), Poland (1936), Argentina (1939-40); Undefeated in collegiate competition (1932-35); Fastest time in the world for the 300yd individual medley (1933-35); 3 NCAA CHAMPIONSHIPS (1932-35); 1956 U.S. OLYMPIC TEAM manager.
The purpose of the Pioneer Category of Honoree Selection at the International Swimming Hall of Fame is to see that no really great swimmer is lost in the shuffle of time.
Perhaps the most colorful of the great U.S. backstrokers of the '30s is Taylor Drysdale, an unforgettable personality, but an often often forgotten swimmer of the era which produced world record Hall of Famers Adolph Kiefer, Al Vande Weghe and Harry Holiday, to say nothing of George Kojac at the beginning of this era and Allen Stack at the other end.
Taylor Drysdale who finished fourth in the 1936 Olympics and just missed the U.S. Olympic team in 1932, deserves to make this list of Hall of Fame backstrokers. He was a phenomenal college swimmer in both the backstroke and individual medley at Michigan, winning several NCAA titles. He was also manager of the 1956 U.S. Olympic Swimming Team in Australia with a distinguished Air Force career as a swimmer (All Service Champion) and a Pentagon whiz kid (Colonel) in between.
Taylor Drysdale, with the movie star name and looks, just missed at the 1932 Olympic Trials, along with that other movie star type Art Linkletter. Both these backstrokers have been prominent in serving the Hall of Fame and keeping active in the swim after their swimming days were over.