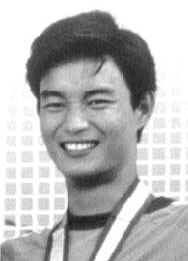 Tan Liangde (CHN)
Honor Diver (2000)
The information on this page was written the year of their induction.
FOR THE RECORD: 1984 OLYMPIC GAMES: silver (3m springboard); 1988 OLYMPIC GAMES: silver (3m springboard); 1992 OLYMPIC GAMES: silver (3m springboard); 1986 WORLD CHAMPIONSHIPS: silver (3m springboard); 1991 WORLD CHAMPIONSHIPS: silver (3m springboard).
In 1982, at age sixteen, he joined the Chinese National team as a springboarddiver in Beijing and under the coaching of Xu Yiming, the National Team coach, he reviewed films of Greg Louganis, taken by Xu on his trips abroad. Little did this young Chinese diver and champion-to-be, Tan Liangde, know that when he hoarded these tapes of Louganis, he would soon be competing against this greatest diver in the world.
Tan first competed against Louganis at the FINA World Cup in 1983 and was beaten. Tan took the silver medal in the 3m springboard at the 1984 Los Angeles Olympics the following year; Louganis won the gold. For the next four years, Louganis won 19 straight international springboard competitions; Tan always received the silver. But at two international invitations just before the 1988 Olympics, Tan beat Greg, the only two times he would beat the superstar. At the Seoul Olympics, Greg returned to defeat Liangde.
At the 1992 Barcelona Olympics, the gold medal again evaded Tan when Mark Lenzi (USA) won the springboard event. Just like when Hall of Fame diver Georgio Cagnotto (ITA) had the Olympic gold medal evade him throughout five Olympic Game competitions in the 1960's, 1970's and 1980, so did Tan Liangde meet the same fate.
But his longevity in the sport was overwhelming. He earned the silver medal in all of his major international competitions, as a result of competing against the great Louganis, a diver who was unbeatable during most of his career. In 1989, the very shy but confident Tan won the FINA World Cup and the Alamo Invitational. He was elected the 1989 Male Springboard Diver of the Year.
Throughout his ten years of international springboard diving competition, Tan was a consistently great diver who other divers tried to outscore but only a very, very few succeeded.