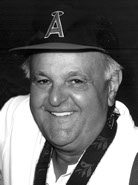 Tamás Széchy (HUN)
Honor Coach (2010)
The information on this page was written the year of their induction.
FOR THE RECORD: COACH OF SWIMMERS WINNING 15 OLYMPIC MEDALS: 8 gold, 4 silver, 3 bronze; COACH OF SWIMMERS WINNING 21 WORLD CHAMPIONSHIP MEDALS: 12 gold, 3 silver, 6 bronze; COACH OF SWIMMERS WINNING 30 EUROPEAN CHAMPIONSHIP MEDALS: 16 gold, 8 silver, 6 bronze.
Tamás Széchy In his native Hungary, he was known as "The Swimming Pope", one of the most productive coaches of his generation, developing Olympic medalists at the Central Sports Club of Budapest for a 25 year period beginning in 1972 with Andras Hargatay winning the bronze medal in the 400m IM at the Munich Olympic Games. Other Olympic medalists he coached include: 1980- Sandor Wladar- gold 200m backstroke; Zoltan Verraszto- silver 200m backstroke, bronze 400m IM; Alban Vermes –silver 200m breaststroke; 1988- Jozsef Szabo- gold 200m breaststroke; 1988 and 1992 Tamas Darnyi- gold 200m IM, 400m IM; 1992- Norbert Rozsa- silver 100m and 200m breaststroke, gold 1996 200m breaststroke; and Attila Czene- bronze 1992 200m IM, gold 1996 200m IM.
Tamás Széchy Between them, Rozsa and Darnyi, held nine World Records. To get away from the cold winters in Hungary, his team traveled the world to train in warmer climates. Always wearing his California Angels baseball cap, he compiled a three-mac-rocycle training program used worldwide consisting of equal months of cross training, quickness and endurance training and competition training. Being a little eccentric his swimmers feared him, but they all trusted him.
At eight World Championships between 1973 and 1998, his swimmers won 12 gold, 3 silver and 6 bronze medals. Szechy's mark on Hungarian and International Swimming has been indelible. The Alfred Hajos swimming complex on Margaret Island in Budapest is considered one of the finestfacilities in the world. It has been re-named the Alfred Hajos-Tamas Szechy Swimming Complex.