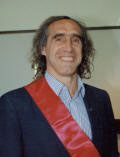 Tamas Farago (HUN)
Honor Water Polo (1993)
The information on this page was written the year of their induction.
FOR THE RECORD: OLYMPIC GAMES: 1972 silver, 1976 gold, 1980 bronze; WORLD CHAMPIONSHIPS: 1975 gold, 1978 silver; EUROPEAN CHAMPIONSHIPS: 1970 silver, 1977 gold; FINA CUP: 1979 gold; JADRAN CUP: 1971 silver; TUNGSRAM CUP: 1972 gold, 1980 silver.
In the opinion of many international judges and players, Tamas Farago is one of the best athletes to ever play the game of water polo. Known for his amazing attacking and shooting skills Farago was the single most reason for Hungary's Olympic medal performances of 1972, 1976, and 1980.
Water polo is Hungary's national sport, and games are played with the same intensity as football games are played throughout Europe. Because of its strong teams of the 1970s, Hungary was always considered a contender for a medal in any tournament, and Tamas Farago was the main reason why.
After Hungary's close gold medal loss to the Soviet Union at the 1972 Olympics, Farago and company returned in 1973 to the first World Championships in Belgrade to defeat the same Soviet team for the gold medal. Again in Montreal, at the 1976 Olympics, Farago returned to lead his team to a 6-to-5 gold medal victory in the first game of the final round against Italy. Farago, who led all scorers with a total of 22 goals, added the winning goal in the final seconds of the game to secure the gold medal. Four of the six goals for Hungary were scored by Farago in the championship game. Farago also played on the silver medal-winning teams of the 1985 and 1978 World Championships and the gold medal-winning teams of the 1974 and 1977 European Championships.
It is because of players like Tamas Farago that Hungary was able to win a medal at every Olympic Games from 1928 through 1980.