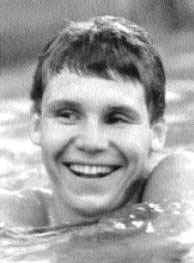 Tamas Darnyi (HUN)
Honor Swimmer (2000)
The information on this page was written the year of their induction.
FOR THE RECORD: 1988 OLYMPIC GAMES: gold (200m, 400m I.M.); 1992 OLYMPIC GAMES: gold (200m, 400m I.M.); SEVEN WORLD RECORDS: 3-200 I.M. 3-400m I.M., 1-200 backstroke (S.C.); 1986 WORLD CHAMPIONSHIPS: gold (200m, 400m I.M.); 1991 WORLD CHAMPIONSHIPS: gold (200m, 400m I.M.); 1985, 1987, 1989 EUROPEAN CHAMPIONSHIPS: gold (200m I.M., 400m I.M.); 9 U.S. NATIONAL CHAMPIONSHIPS: 2-200m backstroke, 3-200m I.M., 4-400m I.M.
During a seven-year period of time in the 1980's and 1990's, Tamas Darnyi rose from the water as the world's fastest individual medley swimmer. His father, a steel factory worker, saw a newspaper ad in the Budapest paper for swimming lessons. Young Darnyi was enrolled and when the six-year-old exhibited great potential he enrolled in a competitive program at the Central Sports Club coached by Tamas Szechy, the country's most successful coach.
Growing up, Darnyi trained with outstanding Szechy protégés Andras Hargitay and Zoltan Verraszto both of whom set world records in the 400m individual medley. Darnyi switched his main concentration from backstroke to I.M. and began winning Junior European Championships. Like his father on land, Darnyi was becoming a man of steel, in the water.
In 1982, a major roadblock confronted him when he was hit in the eye by a snowball. It took the best part of a year to undergo four operations with laser treatment for a detached retina. Although his vision was saved, he still has difficulty seeing out of his left eye, now at about 50 percent.
Darnyi's first big meet after returning for training was the 1985 European Championships. He won gold medals in both the 200m and 400m individual medleys repeating this achievement in another two European Championships (1987, 1989). For a seven-year period, he was undefeated in international competition. At the 1986 Madrid World Championships, Darnyi defeated 1984 Olympic Champion Alex Baumann of Canada in both the 200m and 400m individual medleys. A year later he was swimming fast enough to break David Wharton's and Alex Baumann's I.M world records. All total, Darnyi set six world records in the individual medley and another in the 200m backstroke (short course).
In almost every meet Darnyi swam, his victories came in pairs – the 200m I.M. and the 400m I.M. Three European Championships: Sofia (1985), Strassburg (1987), Bonn (1989) and two World Championships: Madrid (1986), Perth (1991). The coveted Olympic gold medals came in Seoul (1988) and Barcelona (1992) where two of his races were world records and one was an Olympic record. His world records lasted until late 1994. He was selected three times European Swimmer of the Year (1987, 1988, 1991) and World Swimmer of the Year in 1991.