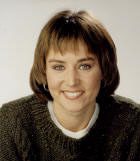 Sylvie Bernier (CAN)
Honor Diver (1996)
The information on this page was written the year of their induction.
FOR THE RECORD: 1984 OLYMPIC GAMES: gold (3m springboard); 1983 PAN AMERICAN GAMES: bronze (3m springboard); 1982 COMMONWEALTH GAMES: silver (3m springboard); 1983 FINA WORLD CUP: bronze (3m springboard); 1983 WORLD UNIVERSITY GAMES: bronze (3m springboard); 1983-1984 CAN-AM-MEX: gold (3m springboard); FIVE CANADIAN NATIONAL CHAMPIONSHIPS (3m springboard).
She took her first step off a diving springboard when she was eight years old and from that moment on, springboard diving for Sylvie Bernier was never to be the same. A 3m springboard queen was born. Sylvie was to become one of the world's best female divers.
From Ste-Foy, Quebec, Sylvie began her international career in 1973 under coach Jean Plamondon from 1975 to 1982 and Donald Dion from 1982 until her retirement in 1984. During her career, she was a five-time Canadian national Champion and still holds the Canadian record on the 3m springboard at 544 points.
During the 1980s, Sylvie's international achievements really surfaced. All of her competition was on the 3m springboard. In 1981, she won the gold in Dive Canada Nationals and silvers at the USA Hall of Fame International Meet and Bolzano Invitational International. 1982 was a repeat of '81 except for the addition of her gold medal at the Torneo International Eleventh Can-Am-Mex. At the 1982 Commonwealth Games she won the silver medal. 1983 saw a USA Hall of Fame International gold medal and bronze medals at the World University Games, Pan American Games and 3rd FINA World Cup. She won the gold medal at the East German Rostock Invitational.
Then it was 1984, the year of the Olympics, in the warm up meet at the USA Hall of Fame International two months before the Los Angeles Games, Sylvie won the gold medal. At Dive Canada again she won gold. She knew if she dived consistently in Los Angeles she could win.
But, it was supposed to be the Americans and Chinese battling it out for the gold. They were the favorites. They didn't know that Sylvie had been working on her entries during the winter months and was confident going into the meet. After Bernier's third dive in the final round, a reverse dive pike, she jumped ahead of all others and kept the lead throughout the competition, fighting off silver medalist Kelly McCormick and bronze medalist Chris Seufert, both of the USA.
Sylvie had become Canada's first ever gold medalist in diving and only its second Olympic diving medal winner, with Irene MacDonald's bronze medal performance on the 3m springboard in 1956. Her diving performances had made her the most successful diver in Canadian history, and she was named the Canadian Female Athlete of the Year in 1984. Upon her retirement following the Los Angeles Games, Sylvie was named a member of the Order of Canada, member of the International Olympic Academy and the Canadian Olympic Association.
Bernier went back to university to obtain a Certificate in Administration, and in 1985 started a career in television delivering chronicles, interviews and serving as commentator for the 1988 and 1992 Olympic Games. She is now a TV commentator on a morning show, salesperson for different companies and a lecturer across Canada. Being asthmatic since she was a child, Sylvie has dedicated herself to the well-being of children suffering form breathing diseases, especially asthma. She offers motivational and visualization conferences across Canada. She is married to Gilles Cloutier and is a mother of 3 daughters Catherine, Annabelle and Florence.
Sylvie did for Canada what no other diver has done, a gold medal performance at the Olympic Games.